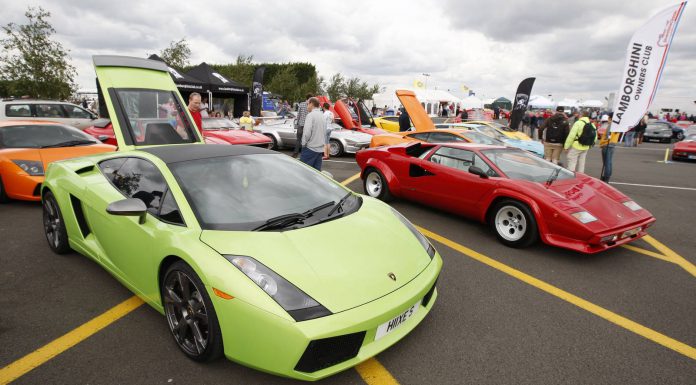 Lamborghini is the latest to announce plans for the Silverstone car week, and like Porsche, they will take their 50th anniversary celebrations there. Among those leading the celebrations will be legendary test driver Valentino Balboni and hopefully he will drive his very own edition of the Lamborghini Gallardo. The Lamborghini Aventador Roadster will also lead the herd of raging bulls around the circuit.
They plan to bring 100 cars, during the Grand Giro, they managed to collect 350 Lamborghini's to race in the 50th anniversary rally. This particular event will be held during Silverstone Classic (26-28 July) and expected to be the biggest gathering of Lamborghini's in the UK.
Lynne Bull, membership secretary of the Lamborghini Club UK said;
As far as we know it will be the biggest gathering of Lamborghinis ever seen in the UK and probably anywhere in the world, aside from the 50th Anniversary Grand Tour that the factory staged in Italy earlier in the year. It is certainly the first time the club has attempted to orchestrate something so monumentally exciting. There will be Miuras, Espadas, LM002s, Countachs, Murcielagos, Diablos, Uraccos… basically the whole history will be represented aside from a couple of the very early originals.
Lamborghini are not here to break the record for the biggest parade, they are here to set the record for biggest gathering of Lamborghinis ever seen in the UK. Ferrari currently holds the record for the largest parade of supercars at the Silverstone circuit. They set this record back in 2012 with 964 Ferraris, beating the Japanese record of a 490 Ferrari parade at the Fuji Speedway circuit. Porsche aim to break it with more than 1000 Porsche 911s!
Those willing to join this event can only do so by booking tickets in advance. The adult fee is £35 and tickets can be booked through here!