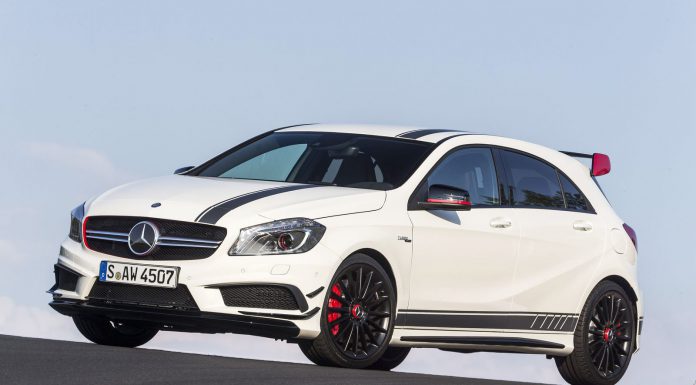 Mercedes AMG will be introducing more than 18 new models at its various showrooms. They will have power ranging from 360hp to 751hp. This is part of a strategy to celebrate the company's (AMG) 50th anniversary. AMG was started in 1967 and will be celebrating 50 years of existence in 2017. The cars will range from the new A45 AMG to the top ranging, and most expensive Mercedes-Benz SLS AMG Electric Drive.
Since its adoption in 2005 into the Daimler AG family, the merger Mercedes-AMG has built some of the best models and powerful Mercedes road cars we have seen. Not to mention racing cars including the Mercedes-Benz SLS AMG GT3 that gave Mercedes its first win at the Nurburgring 24 Hours. Others include the Black Series models based on powerful models such as the C63 AMG, SLS AMG and the unforgettable CLK 63 AMG Black Series.
The following is the price list for the new AMG models which are set to arrive to your nearest Mercedes-AMG showroom in June.
A 45 AMG: € 49.682,50
A 45 AMG "Edition 1": € 56,977.20
C 63 AMG "Edition 507" Saloon: € 83.835,50
C 63 AMG "Edition 507" Coupé: € 85,085
C 63 AMG "Edition 507" Estate: Estate: € 86,394
E 63 AMG Saloon: € 103,054
E 63 AMG 4MATIC Saloon: € 106,981
E 63 AMG 4MATIC Estate: € 109,599
E 63 AMG 4MATIC S-Model Saloon: € 118,405
E 63 AMG S 4MATIC S-Model Estate: € 121,023
CLS 63 AMG Coupé: € 116.203,50
CLS 63 AMG Shooting Brake: € 117.512,50
CLS 63 AMG 4MATIC Coupé: € 120.130,50
CLS 63 AMG 4MATIC Shooting Brake: € 122.034,50
CLS 63 AMG 4MATIC S-Model Coupé: € 131.078,50
CLS 63 AMG 4MATIC S-Model Shooting Brake: € 132.982,50
SLS AMG Coupé Black Series: € 249,900
SLS AMG Coupé Electric Drive: € 416,500
[Source: Autoevolution]