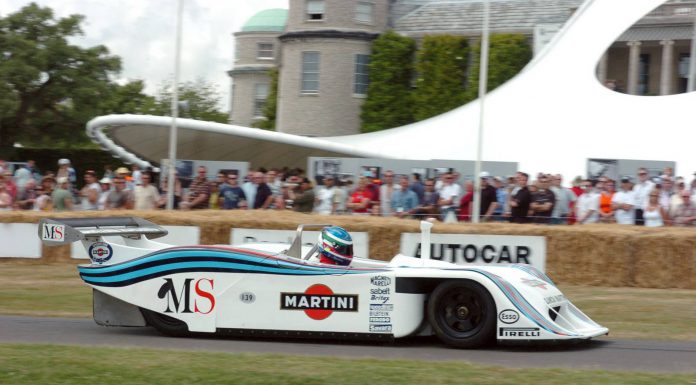 Martini Racing is the latest to announce plans for the Goodwood Festival of Speed 2013, they will present 14 of their best cars! This will be at the historic 1.16-mile Hillclimb which is now in its 20th year. The event which is set to take place from July 11-14 will also see Martini serve its glorious drink to guests.
Ten of the cars will be shown at the F1 paddocks while the rest will be on site elsewhere. Also, for the first time in five years, the Porsche 911 GT3 Cup will be on display. Martini will be celebrating 150 years of existence and 45 years of racing.
Arnaud Meysselle, Senior Global Category Director, MARTINI said;
Partnering with one of the most famous motorsport events in the world is a wonderful moment of our 150 Anniversary celebrations. At Goodwood, we look back over 45 years of MARTINI Racing with this incredible line-up of fourteen cars.

Lord March and his team have created something very special in Goodwood Festival of Speed. This incredible line-up of MARTINI Racing cars is set to be a huge attraction. It wasn't just the cars and famous drivers that made MARTINI Racing great. It was the courageous attitude of the teams, along with the belief and dedication of the fans that kept us winning. We're looking forward to seeing this exquisite catalogue of MARTINI cars back in the unique paddock once again.
Martini Racing is best known for the tri-color motorsports outfit which won various title across four decades. Among them was the Le Mans 24 Hours three times and multiple Grand Prix races. It was in the World Rally Championship (WRC) where they made their name even bigger. They won seven world titles, with six being consecutive from 1987-1992 and this is still an unbeaten record in the 40-year history of WRC.
Cars Displayed within MARTINI Paddock:
1. Lancia LC1
2. Lancia LC2
3. Lancia Delta Integrale
4. Lancia Delta S4
5. Porsche 917K
6. Jaguar XJ220
7. Ford Focus WRC
8. Lotus 80
9. Brabham BT45
10. Porsche 911 GT3 Cup
Also on site:
1. Porsche 911 SC Safari
2. Lancia 037
3. Porsche 936
4. Porsche 935 'Moby Dick'