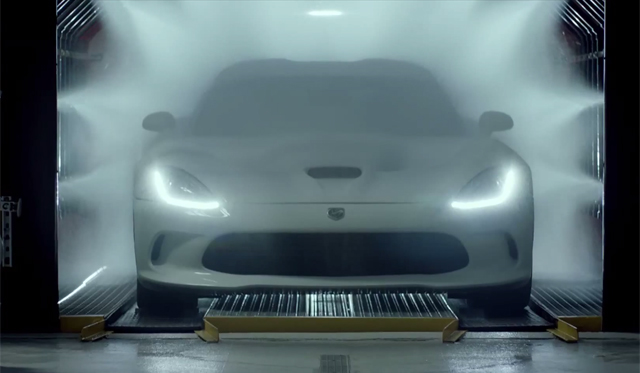 SRT has just released its first TV commercial prominently featuring the 2013 SRT Viper which has been specifically targeted to automotive enthusiasts like us.
The following 60-second clip highlights the passion which flows through the veins of car enthusiasts and how cars are simply more than just pieces of machinery, but are instead a living and breathing item more than capable of stealing our hearts away from those of the opposite sex. If you love cars, then this advertisement is sure to ring true for you!
http://www.youtube.com/watch?feature=player_embedded&v=6mC-4UwSUzg
The latest variant of the SRT Viper to be released, is the 2014 SRT Viper TA. Based on the 2013 SRT Viper road car, it has received various upgrades starting with the suspension which is the most important of all. It comes specifically tuned for the track with the Pirelli P Zero Corsa tires which are mounted on ultra-lightweight and multi-spoke Sidewinder II wheels. There is a two-mode Bilstein Damptronic suspension system with firmer levels of damping and a smaller spread between modes than what is found on the current Viper GTS models.
Still on the suspension, there are shock dampers, springs and road racing derived stabilizer bars which are retuned for optimal on-track performance. The standard aluminium structural X-brace is replaced with a lighter carbon fiber brace that effectively ties the four corners of the engine compartment together and contributes to the 50-percent increase in torsional rigidity and stiffness across the Viper line-up.