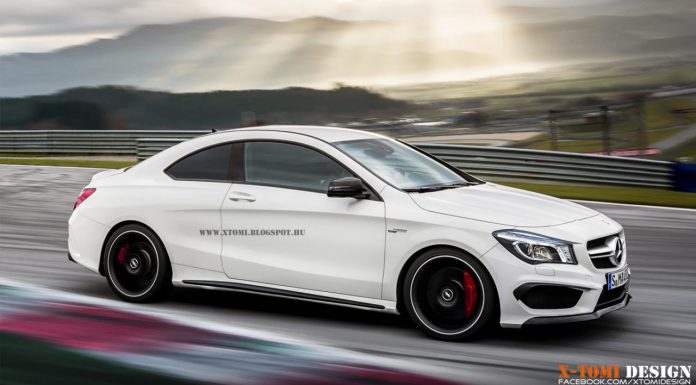 A new rendering of a Mercedes-Benz CLA 45 AMG has just released online depicting how the brand new potent sedan would look like with two fewer doors.
The current Mercedes-Benz CLA 45 AMG sedan is similar to the Mercedes-Benz A45 AMG hatchback. This is most evident through the styling especially with the curves, the front, the difference comes in at the rear, they even share the same engine, a twin-scroll turbocharged 2.0 liter engine. The engine is based on the Daimler 2.0 liter turbocharged power plant developing a maximum output of 360hp and up to 450Nm of torque. It uses the AMG Speedshift DCT seven-speed dual clutch transmission and a rear differential.
Appearing as the sedan version of the Mercedes-Benz A45 AMG, the CLA 45 AMG takes these similarities further to the interior, sports bucket seats, a sports steering wheel and AMG-embossed gear selector, turbine-inspired air-vents and a carbon-fiber dash finish.
The new Mercedes-Benz CLA 45 AMG also uses Mercedes-Benz's 4MATIC system. The Mercedes-Benz 4MATIC system is an advanced electronic system that will feature a three-stage stability program offering drivers a selection of different driving modes.
The regular setting is ESP ON, followed by ESP SPORT Handling Mode and ESP OFF. Furthermore, the CLA 45 AMG will be all-wheel drive (the main feature of the 4MATIC system) developed specifically for the CLA 45 AMG which may be 25 percent lighter than similar systems produced by some of Benz's biggest rivals.
[Via Euro Car Blog]