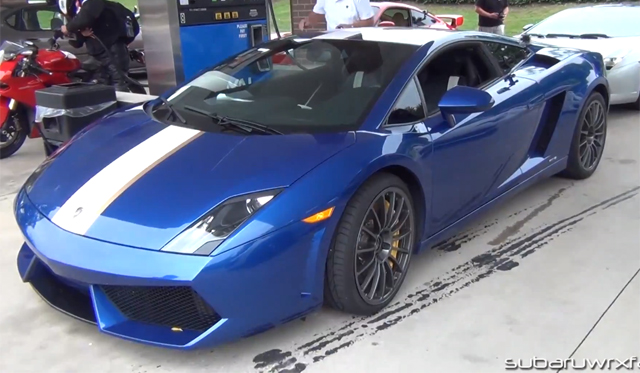 At a recent Europort DC driving event where Valentino Balboni was in attendance with a Lamborghini Gallardo LP550-2 Valentino Balboni, the following high-octane video was put together by Subaruwrxfan on YouTube filmed from an Audi R8.
The video largely shows the blue Lamborghini Gallardo LP550-2 Valentino Balboni driving ahead of a yellow Lamborghini Aventador LP700-4 which is then being followed by the Audi R8. The clip was taken on some scenic roads through Maryland. The event involved 130 of the world's greatest supercars from Ferrari, Porsche, Maserati and Lamborghini.
The Lamborghini Gallardo LP550-2 Balboni is not just a Gallardo with RWD. To make the car what it is now a lot of modifications to the setup had to be made. The engine is the same 5.2 liter V10 available in any other Gallardo model, but with a maximum output of 550hp, offering the least horsepower in any Gallardo.
However, the rear-wheel drive system makes the Balboni 30kg lighter than the LP560-4. This allows for a zero to 100km/h sprint of 3.9 seconds and if you keep your right foot fixed to the bottom the Balboni will reach a top speed of 320km/h.
The performance figures are only part of what the LP550-2 is about. Its driving dynamics and characteristics make this car so different from all the other Lamborghini's on the market today. To achieve this additional changes had to be made to the differential, gearbox, ESP system, springs, dampers, stabilizers and even the tyres.