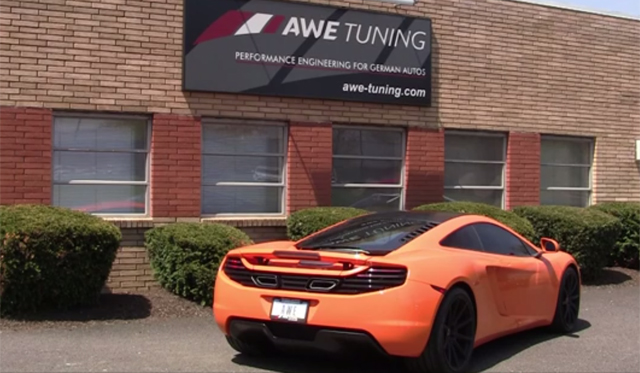 Whereas the 4.5-liter V8 powered Ferrari 458 Italia produces an exhaust note simply out of this world, the McLaren 12C has always suffered from a severe lack of exhaust noise largely due to its twin-turbocharged setup. However, the latest exhaust upgrade for the McLaren 12C from AWE Tuning really turns the 12C into a 458 Italia rival in terms of its exhaust note.
AWE Tuning's exhaust system for the McLaren 12C involves mating the AWE Tuning Performance Catalysts to the stock exhaust system and the resulting soundtrack is significantly uprated from that produced by a stock standard McLaren 12C. If the addition of a more aggressive exhaust note wasn't enough, AWE Tuning also claims that through the fitment of this redesigned exhaust, its McLaren 12C exhaust system increases power by an impressive 46hp and 61lb-ft of torque.
The exhaust is constructed from mandrel bent 304 stainless steel at 3″ diameter throughout and features a small balance opening between the banks which produces the exotic, high pitched wail. The AWE Tuning Performance Exhaust features logo tips evoking the factory geometry in a discrete satin black finish, or an optional high profile bare stainless steel machined finish.
With the 2013 McLaren 12C already producing 616hp standard, the addition of an extra 46hp and 61lb-ft will inevitably turn all McLaren 12C's with AWE Tuning exhausts into true Lamborghini Aventador competitors!