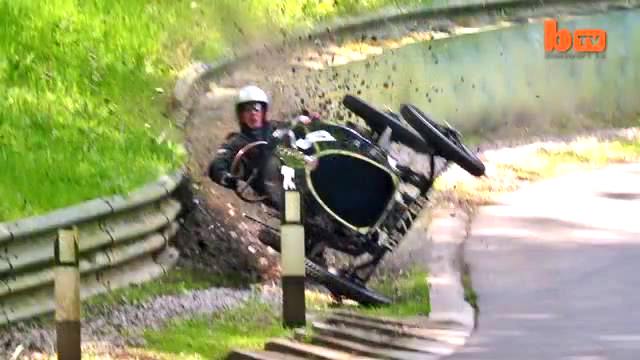 Classic car collector and car racing enthusiast Edmund Burgess crashed his 1924 Bugatti while in action at the Prescott Speed Hill Climb, in Winchcombe, Gloucestershire, on Sunday. The classic masterpiece is worth £250,000, but after the crash, the 56-year old walked away unhurt and instead of whining about his loss, he grabbed a beer!
Well, that's not what many of us would do but according to the Daily Mail, Edmund took the decision to celebrate after he realized the type of danger he had just walked away from. He will be in action in eight weeks' time after his car has been repaired.
From the video which was posted by Barcroft TV, the car lost control at the hairpin, and crashed straight into the barriers but luckily he walked out unharmed. According to Edmund, he tried to apply brakes when he approached the corner only to see the car losing control before the crash. This is what he had to say;
It happened very suddenly. I was approaching a hairpin bend and I was going a little faster than usual, maybe 30mph, when I tried to brake.

Before I knew it, I'd lost control and the car toppled over. When I saw how damaged the car was, I was amazed I could pull myself out and walk away. I was very lucky

My helmet must have hit the barrier, but otherwise I was OK. I decided to sit the rest of the event out in the bar with a beer. I'm just irritated more than anything because it means I can't compete again until this one is repaired.