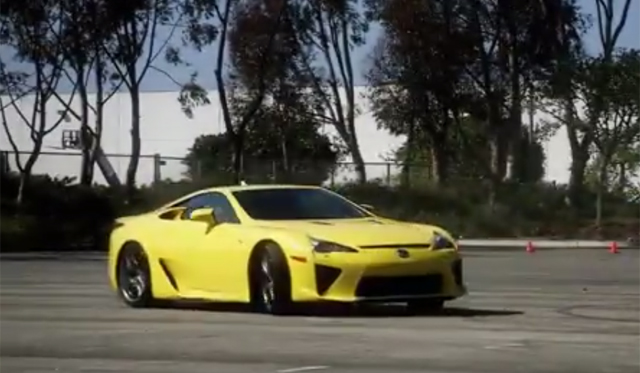 It was recently National Donut Day in the United States (yes, such a day exists) and Lexus decided to celebrate in the only way it knows how releasing an awesome video of a yellow Lexus LFA doing donuts with LPGA pro golfer Natalie Gulbis at the wheel!
In December 2012, the final Lexus LFA rolled off its Japanese production line signifying the end of a twelve year project to create the world's greatest supercar, and in order to celebrate the life of the Lexus LFA, Lexus recently released a tribute video to the Lexus LFA which can be viewed here.
The Lexus LFA story begins way back in 2000 when Lexus engineer Haruhiko Tanahashi assembled a team of engineers to create the fastest and most technologically advanced to have ever come out of Lexus. In the preceding years, a number of different Lexus LFA concepts were created before production finally began in 2010.
Powering the Lexus LFA is a 4.8-liter V10 engine producing a Lamborghini Gallardo LP560-4 equalling 552hp at a spin-tingling 8,700rpm. The compact V10 engine of the Lexus LFA then produces 354lb-ft of torque at 6,800rpm.
If this video gets your appetite flowing for the Lexus LFA, then be sure to read our Lexus LFA road test in Monaco!