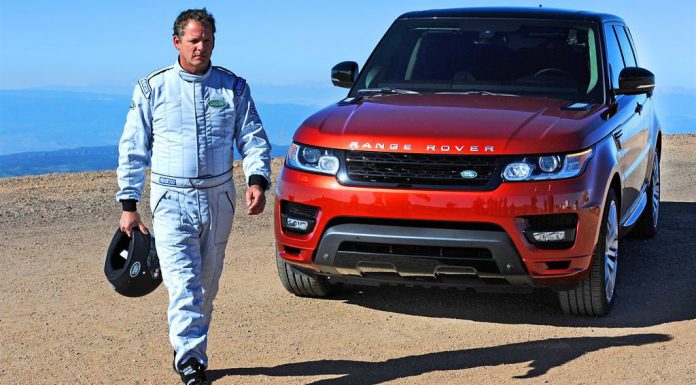 The 2014 Range Rover Sport has set a new record for a production-standard Sport Utility Vehicle at the 2013 Pikes Peak Car and Motorcycle Hill Climb Competition. The new record is 12 minutes 35.61 seconds at an average speed of 59.17 mph (95.23 kph) on the 12.42-mile asphalt course, uphill! The Pikes Pike International Hill Climb course known as the 'The Race To the Clouds' is one of the toughest racing competitions and held since 1916.
For those who may not understand the depth of the competition, the 12.42 mile course has 156 corners; the venue is in north-west of the town of Colorado Spring. The starting point is at an altitude of 9,390 feet (2,860 metres) above sea level and rises 4,720 feet (1,440 metres) all the way to 14,110 feet (4,300 metres). That means that the region has 58% oxygen only, in other words, the higher you go, the thinner the air and the car also performs poorly!
This Range Rover which made debut at the New York Auto Show 2013 was completely stock but to meet racing regulations, they installed a roll cage and safety racing seatbelts. It features a 510PS 5.0-litre supercharged petrol V8 engine. It was driven by American stunt driver Paul Dallenbach known locally as the Pikes Peak specialist. Aged 45, he has won his division at the Hill Climb six times and won the event three times.
This is what Dallenbach had to say;
There's no margin for error at Pikes Pike – you only need to misjudge one of those 156 turns and you're into the trees or over the edge of the mountain. To take on this place the way I did today, you need complete confidence in your vehicle, and the Range Rover Sport sure gave me that – it's fast, responsive and agile. I was able to place the car exactly where I wanted it on the road to keep to the optimum high-speed lines through corners. This is a hugely capable vehicle and I'm proud to have been part of demonstrating that by setting a new Pikes Peak record