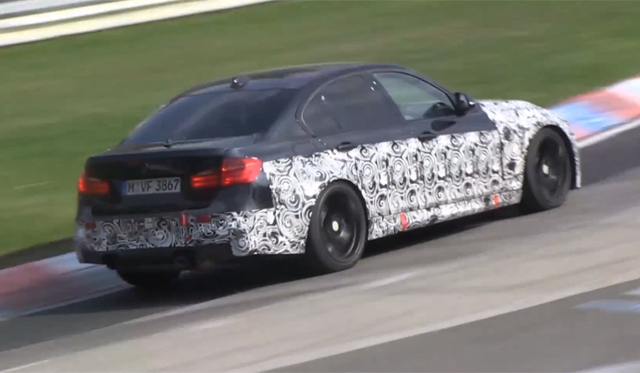 After new renderings of the upcoming 2014 BMW M3 were recently released online, testing and development of the new high-performance German sedan continues and a camouflaged, black 2014 BMW M3 was recently spotted testing at the infamous Nurburgring.
While the camouflage on the following prototype is covering up most of the styling changes when compared to the previous generation BMW M3 sedan, a selection of newly designed components will feature on the 2014-specification car. Most notably, the 2014 BMW M3 sedan will feature new taillights and headlights, as well as modified front and rear fascias and a slightly different overall shape.
On top of these fairly significant styling changes, the 2014 BMW M3 will also feature redesigned wing mirrors. However, the biggest changes to the 2014 BMW M3 will be found under the hood, with the 2014 BMW M3 to reportedly feature a twin-turbocharged 3.0-liter six-cylinder engine developing around 450hp and 405lb-ft of torque.
That equates to a significant horsepower gain compared to the 414hp produced by the 4.0-liter V8 engine found in the current E92-generation BMW M3. Consequently, the 2014 BMW M3 is predicted to hit 62mph in around 4.2 seconds and an electronically limited top speed of 155mph.
The following video includes some awesome moving shots of the new high-performance BMW sedan, with its exhaust note being heard perfectly. At one stage, an engineer even tries to kick out the rear end of the prototype!
[Via WorldCarFans]