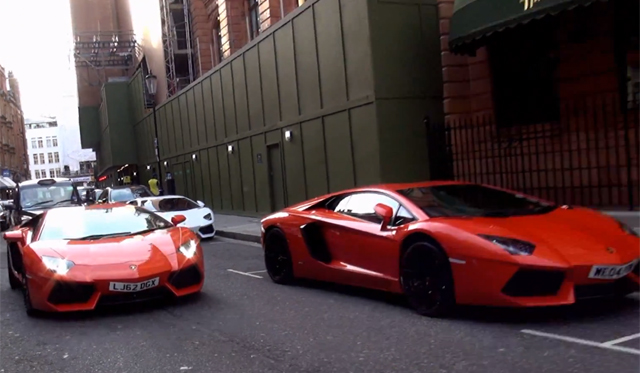 By now, we all know that during summer, London is without a doubt one of the most heavily supercar populated cities in the world as wealthy Middle Easterners escape their home countries to enjoy the high-end shopping and incredible scenery in and around London.
In the past few years, one of the most popular supercars among wealthy businesspeople has been the Lamborghini Aventador and while its main rival, the Ferrari F12 Berlinetta may be considered the best driving car of the two according to journos around the world, Lamborghini definitely has the market for those wanting to standout well and truly covered.
In their latest video, supercarsoflondon on YouTube were able to film an incredible eleven Lamborghini Aventador's on London's tight city streets in just two hours! In the clip a selection of Lamborghini Aventador's finished in red were spotted, as well as a white Lamborghini Aventador, two matte black Lamborghini Aventador's and even a bright matte yellow Aventador tuned and upgraded by DMC Germany.
As a reminder, the Lamborghini Aventador is fitted with an all-new 6.5-liter V12 engine delivering a total of 692hp. This powerful Italian engine is then mated to a seven-speed, single-clutch ISR transmission driving all four wheels. Consequently, the Lamborghini Aventador can hit 62mph in a mesmerising 2.9 seconds!