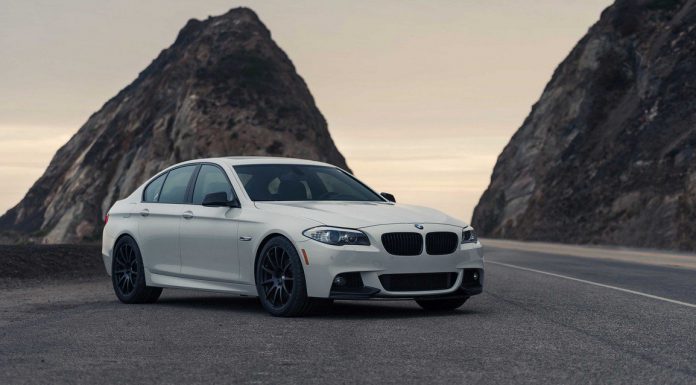 When Dinan Engineering comes to mind, we think of them as a technical partner to BMW Motorsport in the Rolex Grand-Am Daytona Prototype Series. Indeed, they can boast of several wins at the 24 Hours of Daytona. However, for 34 years Dinan has been a BMW and Mini tuner in the US and is known for extensive engineering having worked closely with BMW Motorsports. They have now revealed their latest build which is a 2013 BMW 550i S3.
The highlight of their project is the power-jump from the stock 400hp found in the stock BMW F10 550i to the new 542hp and 587 ft-lbs of torque they have given it courtesy of their tuning. The flagship sedan is now capable of hitting the 200mph mark and performs like a supercar. Amazingly, it comes with an identical warranty to that of BMW, Dinan is offering 4 years/50,000 miles warranty to both rear-wheel drive and all-wheel drive configurations.
Dinan Engineering President Steve Dinan said;
Our goal at Dinan is to build a balanced performance package that maintains the soul of the OEM platform. This car is designed to be faster and handle sharper, but still offer the level of refinement that BMW owners expect from their daily commuter, in any weather condition, or even at a weekend track day.
The new power-jump was achieved due to the larger intercoolers and turbochargers not to mention the Carbon Fiber High Flow intake. These intakes utilize a load-bearing strut brace into the intake plumbing. The airflow is further enhanced with the Dinan high performance exhaust that also gives a good roar. The tuning was completed using their own Stage 5 Performance software. They did not mess with the BMW safeguards. They also did a complete map rescaling on the ECU to enhance drivability from idle to full throttle and ensuring proper air-fuel mix ratios.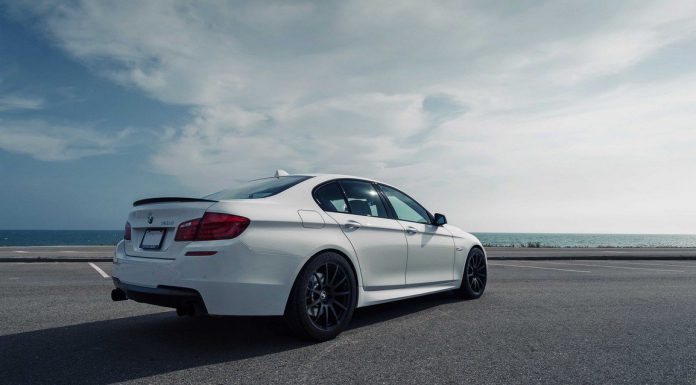 Additional details include the negative camber front control arms, low compliance rear control arms and Dinan-tuned lowering springs with increased spring rates to decrease body roll. The suspension system utilizes Dinan Shockware system that features re-programmed dampening to work together seamlessly with BMW's EDC (Electronic Damper Control) system. The 5-series can now attack the track any time!
The ride was then set on Dinan lightweight forged wheels that come with custom finishes. Drivability comes through the limited-slip differential, Dinan by Brembo slotted high-performance brake rotors and calipers. Music lovers will enjoy the Bavsound audio system. You shall also notice the carbon fiber mirrors, carbon fiber front fascia, carbon rear spoiler and Dinan aluminum pedals. All these set it apart from an ordinary 5-series.
Dinan says that this package is also available for the 650 and 750 with 2WD and AWD.