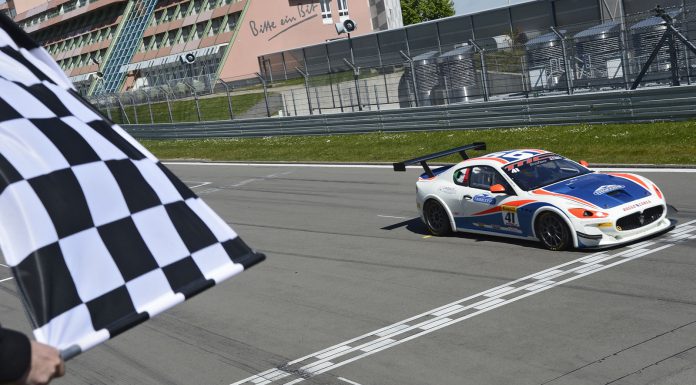 Renaud Kuppens managed to maintain his strong racing form from winning the first race of the Maserati Trofeo MC World Series at the Nurburgring, taking victory in the second race while Alberto Cola and Patrick Gobbo then secured the third and final race.
At the start of the third race, all the focus was on Kuppens as he started on pole position and had to reovertake Alan Simoni before definitively holding first place through to the compulsory pit stop period. During the pit stops, the team of Albert Cola and Patrick Gobbo managed to sneak through from fifth position into first thanks in part to the retirement of Ange Barde and tire problems of Mikkel Mac ahead of them.
However, Cola and Gobbo didn't win the race without some fireworks as their front right tire actually blew on the very last corner but they had a healthy enough lead of second place Andrea Gardelli and Fabio Venier to stay in front in the closing meters. Third spot then went to Riccardo Romagnoli and Mauro Calamia.
After the race, Cola said "It was a great result, even though we didn't get off to a good start. I soon found myself behind Mikkel Mac and realised he had tyre problems. He was pretty slow and it was tough getting past him. Once ahead of him I tried not to take too many risks and focused on handing over the car to my team mate in decent shape as the tyres were feeling the pace".
Gobbo then concluded by stating "It is true that the tyres weren't 100% but the car reacted well. I managed to settle into a decent rhythm and hoped everything would go well. Luckily, I punctured at the very last curve so still managed to claim the win".