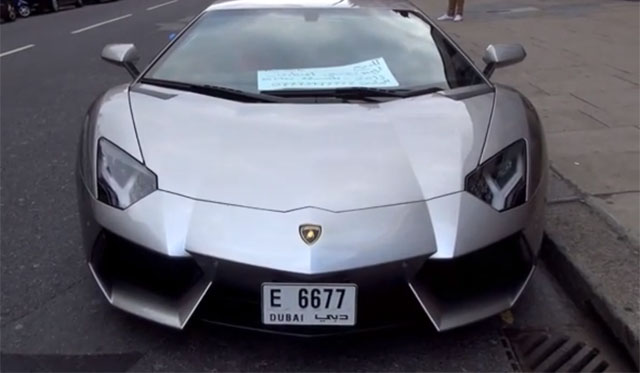 If anyone fortunate enough to own a Lamborghini Aventador ever feels the need to sell it, you can almost be assured that the car will be sold to an established exotic car dealership before that dealer then sells it to a new customer.
However, the owner of the following Lamborghini Aventador decided to manoeuvre around the middle man of a dealership and instead put a paper 'For Sale' sign on the dashboard of the Italian supercar! While putting a window for sale advertisement on a car is actually quite a common way to sell one's vehicle, you almost never see cars this valuable being sold in such a way.
However, the fact that the car was parked in London, England in the middle of supercar season does begin to make some sense. What's more, the current owner of the Lamborghini Aventador clearly has an audience in mind, as most of the sign has been written in Arabic suggesting the owner hopes an interested Middle Eastern party will fall head over heels for the 692hp, 6.5-liter V12 powered Lamborghini Aventador while walking down the street.
According to a comment on the following YouTube video from supercarsoflondon, the owner is currently asking for 340,000 pounds for the silver Lamborghini Aventador. It's currently unknown how many miles the car has covered and if it's been well maintained.