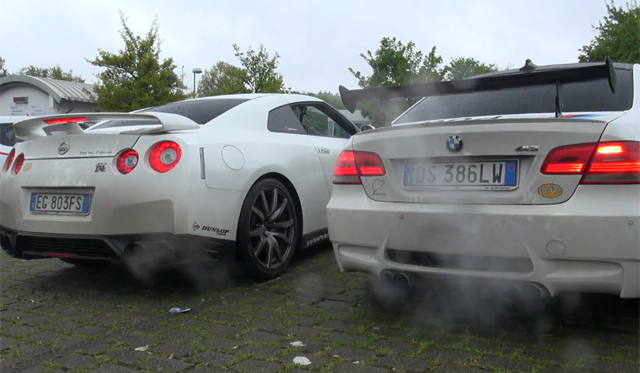 What would you prefer? A BMW E92 M3 fitted with the BMW M3 GTS wing and topped off with a full SuperSprint Exhaust system and race mufflers or a Nissan GT-R with a Meisterschaft exhaust system?
Well, the following video put together by Gumbal on YouTube should help you come to a definitive conclusion with the two cars being showcased driving and revving together, perfectly showcasing their insane exhaust notes at a standstill and under acceleration also.
The 2011 Nissan GT-R Black Edition in the following clip is fitted with a 3.8-liter twin-turbo V6 engine producing 530hp and 612Nm of torque. Consequently, the 2011 Nissan GT-R Black Edition can sprint to 62mph in 3 seconds and onto a top speed of 193mph.
The BMW E92 M3 on the other hand, features a larger 4.0-liter V8 engine pumping out 420hp and 400Nm of torque. As a result, BMW claims that the BMW E92 M3 can accelerate from 0-62mph in around 4.8 seconds before topping out an electronically limited top speed of 155mph. The SuperSprint Exhaust system found on this particular BMW E92 M3 is a complete unit with a center unsilenced x-pipe and F1 race mufflers.
Leave your comments below about which one you prefer, this Nissan GT-R or this BMW E92 M3?