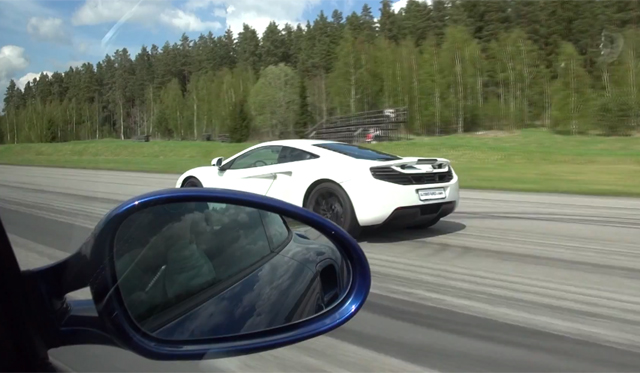 From a visual standpoint, both the McLaren 12C and Porsche 911 Turbo S can be severely underestimated.
While the cars certainly don't have any of the insane rear wings of some Lamborghini Gallardo variants, under the hood, these two cars pack two of the most technologically advanced powertrains in the modern production-car realm and are consequently, two of the fastest supercars in their respective classes.
In their latest rolling drag race, M5boarddotcom on YouTube gathered a blue Porsche 997 911 Turbo S and a factory upgraded white McLaren 12C.
While the Porsche 911 Turbo S produces around 95hp less than the 625hp 2013 McLaren 12C, from a standstill to 62mph very few cars can compete with this German supercar. However, this race is a rolling start and therefore negates those possible advantages of the Porsche 911 Turbo S.