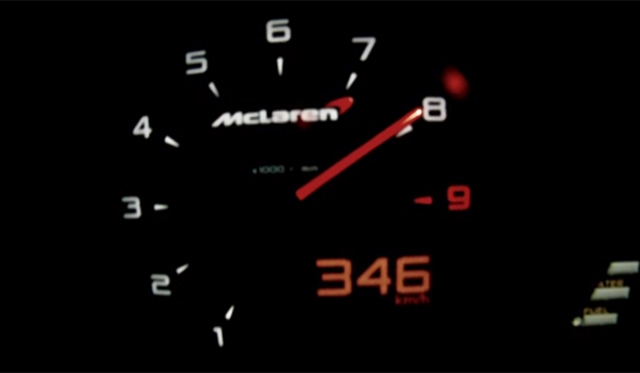 McLaren claims that the McLaren 12C Spider has a top speed of 204mph completely stock. However, not convinced by such a claim Sport Auto set about maxing out the McLaren 12C Spider and the results are actually extremely surprising.
The car was driven by Christian Gebhardt where he managed to hit a top speed on the dash speedometer of 215mph or 346km/h and a GPS-verified top speed of 213mph or 343km/h.
Such a figure is extremely impressive for the McLaren 12C, let alone the convertible version as convertible's generally have lower top speeds than their coupe siblings. What's more, a top speed of 213mph in the McLaren 12C Spider makes it over 10mph faster than the Ferrari 458 Italia. What's more, the McLaren 12C has shown itself to be faster than the Ferrari 458 Italia in acceleration and around the Top Gear test track.
Helping to send the McLaren 12C Spider reach a top speed of 213mph is a twin-turbo 3.8-liter V8 engine producing an impressive 625hp in 2013-specification. This potent powertrain is the mated to a seven-speed dual-clutch SSG transmission driving just the rear wheels. McLaren claims the McLaren 12C spider can hit 62mph in 3.1 seconds and 100mph in just 6.1 seconds and 124mph in 9 seconds.