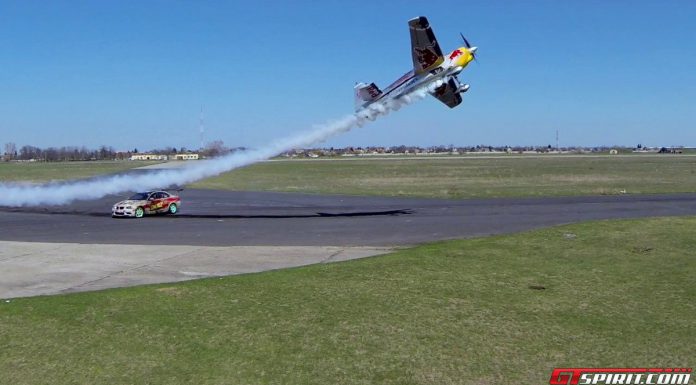 What do you get when you combine a GoPro Hero3, a track based BMW M3 and a plane all at the Gymkhana course? Well, the answer is in the video below. Dotz Tuning Wheels decided to shoot a Car vs. Plane Gymkhana Drift Battle video, plane vs. car chase videos have always been a thing to reckon with as they are altogether exciting to watch. Normally, the car always loses the battle, but in this video the BMW M3 and the plane were here to show off their drifting stunts on ground and air.
The video revolves around drift pro racer Dominic Tiroch with his Dotz BMW E92 M3 DD1 drifting against the former Red Bull Air Race world champion Hannes Arch in his Zivko Edge 540. Tons of smoke on air and ground as both machines do what they know best, a lot of spinning action at the least!
The trick with all Gymkhana motorsports is memorizing the track, and these two were pretty good in this particular video as it went smooth.