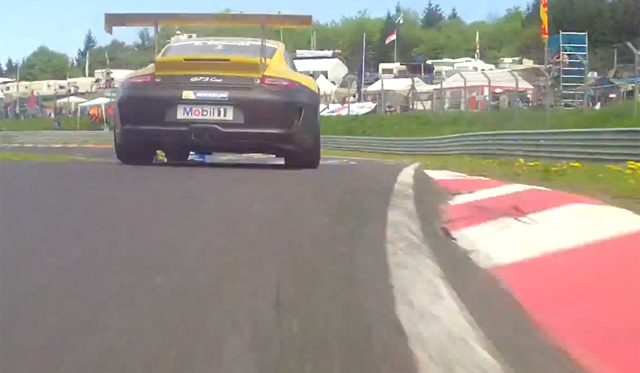 Having the opportunity to see multiple Porsche 911 Carrera Cup cars racing on the legendary Nurburgring is someone very few will ever have the privilege of seeing, but thankfully the following video gives us some indication of the extremely high-paced racing that goes on there.
The video has been filmed from a GoPro portable camera being mounted to the front bumper of one Porsche 911 Carrera Cup car which can be seen fiercely battling with a yellow and black Porsche 911 Carrera Cup for track position.
The clip was filmed during the third round of the Porsche Carrera Cup competition in Europe and showcases the driving of Kevin Estre and Sean Edwards and the clip features some simply breathtaking images as the German race cars frequently bottom out and scrap along the tarmac at high downforce sections of the track!