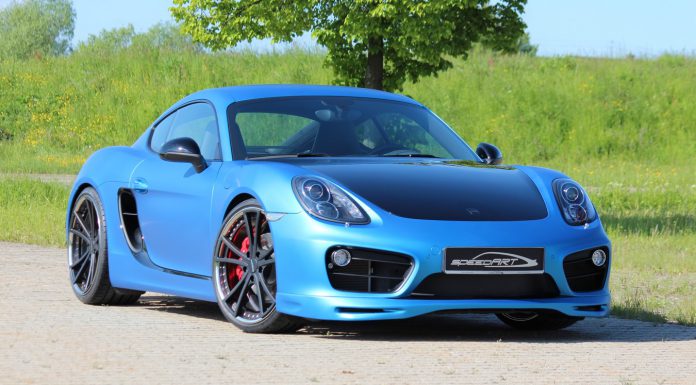 Porsche specialists and tuner SpeedArt have announced that they will reveal their SP81-CR car based in the new Porsche Cayman S at this year's Tuner Grand Prix. It will take place this weekend on May 25 at the Hockenheim racetrack.
They have issued an image of the car of the car to prepare spectators ahead of the event. The kit sports the blue color it premiered with in the official release. Black accents on the blue coat help give it a menacing look. It offers aerodynamic, performance, suspension, wheel, exhaust and interior modifications. SpeedArt will offer the SP81-CR with three optional power kits boosting power to 345, 360 and 400 hp.
The wheels can't go unmentioned as they play a big role it the new look, they are 21 inch LSC-FORGED Wheels accompanied by an adjustable sport suspension. The Tuner Grand Prix has become an annual tradition for German tuning brands and the final trophy is highly coveted. Last year, 24 different companies took part and an estimated 30,000 visitors arrived to take a look at the cars.
The winner of each class is decided by Sport Auto drivers who have to set five fast lap times. The average of the five fastest laps is then calculated and the highest score wins its respective class. 2012 saw the introduction of 16 classes seperated into two different groups: Group A (Vehicles that are not street legal) and group B (street legal vehicles). The class range from C15 Supersport to C5 Turbodiesels up to 2000cc. 2012 even saw the introduction of an alternative drive category.