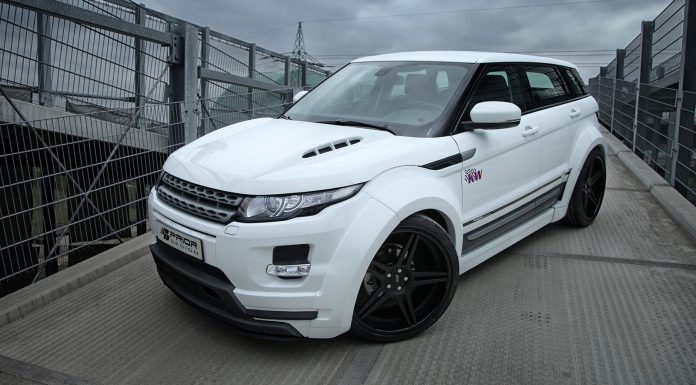 German-based tuner Prior Design has been on a roll lately especially after the Top Marques Monaco 2013 where they were represented by several Audi R8 PD GT850s all in great wraps. They have now revealed a widebody kit for the Range Rover Evoque which seems to be sinking under water after the new Range Rover Sports made its debut. Prior Design has created this kit under the codename PD650.
Just like all their kits, this one features quality Dura-Flex FRP (Fiber Reinforced Plastic) with perfect surface finish to allow for inexpensive painting. They parts fit perfectly and no modifications or alterations are required during installation. This kit will it on all Range Rover Evoque 5D models.
The kit comprises of a PD650 front add-on spoiler, a rear add-on spoiler, front widenings, rear widenings, side skirts and mounting material. It's being sold at a price of 6900,00 € or an equivalent of $8899. Most of the details can be seen from the gallery perfectly.