We recently received a report from a member over at Luxury4Play regarding the practices of DMC Tuning Germany, a firm that we have also featured on GTspirit before. This is a rather long account of some issues that have been reported with DMC, from copyright infrigment to delivering Chinese prototype- and non-fitting parts to clients. Below you will find a breakdown of the accusations made by photographers, a former importer and clients of DMC Germany. During our research we also came across the firm TITAV, which sells a Titanium Exhaust made in China branded as a German product.
SenorCeeb is an agent for a small group of photographers one of which is Marcel Lech Photography (MLP). MLP has done a handful shoots for DMC, mostly photos and a couple videos, ranging from Toro kit Gallardo in Vancouver, Molto Veloce Aventador in Miami, 430 Conversion kit in Vancouver, McLaren Velocita in Vancouver, Molto Veloce with Bugatti Vitesse in Vancouver and video for Molto Veloce SV in Hong Kong.
After the shoot DMC used the photos and videos for more than what had been agreed including commercial use in brochures and on their website. They also altered photos by removing watermarks and adding their own watermark without the consent of the photographers. DMC is pointing to a deal made by the Canadian Importer but as far as copyright is concerned DMC should hold a license to use the photos for commercial purposes. This doesn't seem to be the case so the photographer has the right to claim financial compensation for the commercial use of his shots by DMC Tuning Germany.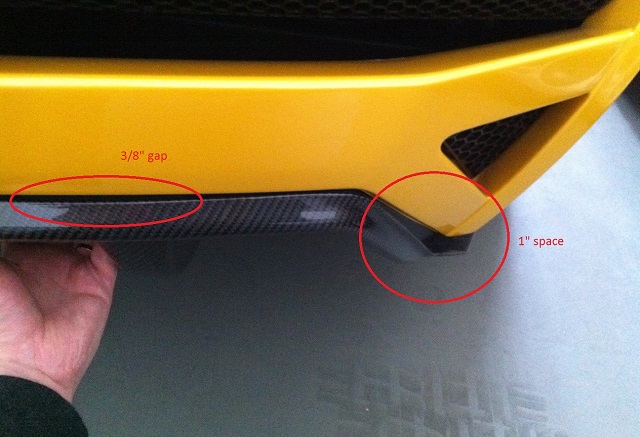 The second accusation centers around prototype and non-fitting parts which have been sent out to customers. Some DMC kits do not fit on their specific cars. The picture above shows a Lamborghini diffuser, and the latest example is the DMC kit for the McLaren 12C, the rear spoiler sent to a customer in Vancouver. The spoiler on the official McLaren Velocita release was photoshopped. The spoiler sent to the customer was a whole 2 inches too low and would hit the body when the spoiler was deployed. All efforts by the garage in Vancouver to fit it were in vain. He removed it in February and despite numerous requests for a replacement, the right part has still not arrived.
During his research SenorCeeb came across numerous mistakes in the DMC Tuning Germany story. A large number of images, both press releases and company details have been photoshopped or are not what they are said to be. The image that shows the company headquarters on the DMC website is not the DMC headquarters in Düsseldorf but the Tectrum building a mere 30km away in Duisburg.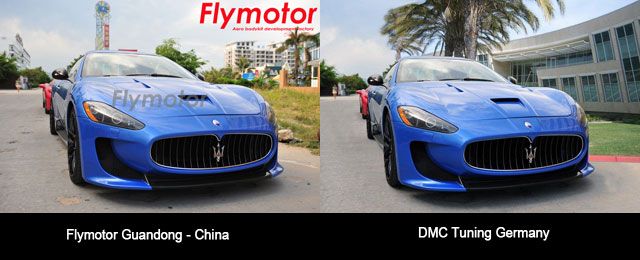 This fueled the thought that DMC Germany might not be as German as they might want you to believe. Further research and reverse image search lead quickly to China. In specific the city of Guangdong, not far from Hong Kong in mainland China. In Guangdong SenorCeeb found a company called FlyMotor, they call themselves an 'Aero Bodykit Development Factory' and produce parts for a large range of vehicles. They also produce fake and cheap copies of Hamann and TechArt bodykits. Original images of the kits produced in Guangdong match exact copies spread by DMC to promote and sell their products in the rest of the world.
Further research also lead to TITAV Exhaust Systems Germany, in layout and setup very similar to the DMC website and owned by the same company as DMC Germany. In the contrary to what the GTspirit logo on the TITAV and DMC homepage might suggest we have no relations with DMC or TITAV. On the TITAV Facebook page there is an image of a TITAV Titanium Exhaust for the Audi R8. A search on Alibaba.com (online portal for manufacturing and import/export) lead us to an ad for an identical exhaust. It looks like its not produced by TITAV in Germany as the website or Facebook page might suggest. On Alibaba it is offered by Jiajun Auto Accessories Manufacturing Co., Ltd. in Guangdong, China.
We contacted DMC Germany with the story presented by SenorCeeb and asked for a responds along with some additional questions. DMC Germany came back to us with the following statement:
1. Photographer claims that DMC owes him money
We don't have agreement with the aforesaid photographer. If he can bring proof of a business contract between him and us, we are willing to review it. Kindly ask him to deliver such proof.
Explanation: Our appointed dealer for Canada, LEXIM Canada, promised us photos for a project that we developed for the McLaren MP4. From time to time we offer free or discounted prototypes when they launch, in return for free photos, fitment report and suggested solutions. Our dealer promised us the photos, and delivered, but he never paid the photographer.
The photographer agreed to LEXIM that the photos can be used for PRESS RELEASE (link to high-res photos without any photographer logo was sent to Lexim, and he forwarded to us), and SOCIAL MEDIA (with request to mention the photographer). We used them accordingly after LEXIM informed us about this.
At all times, LEXIM was the organizer of these photos, he directed the photographers. Any communications and agreements were between the photographer and Lexim. Never between the photographer and DMC.
We would now like to focus on some of the accusations that the photographer makes against DMC:
2. False fitment of McLaren or other products
Since this was a prototype, it was made very clear to our dealer LEXIM, that potential fitment issues could arise. One of the reason for giving the kit away at a reduced price (8500 USD instead of 15.000 USD), was to get not only photos but also fitment report and remedy of any potential misfitments. We request remedied parts back so that we can adjust our molds accordingly for better fitment. Since this was a prototype, and our dealer was fully informed about it (see attachment: WhatsAPP_1.pdf), it's not fair, but false and misleading to say that our product doesn't fit.
During the past 4 years, we may have had to improve on our quality, but we are proud to say that with 2013's Aventador Kit, we have a fitment perfection that is very good. We proudly invite you to come and oversee any of our installations in our Swiss facility. Please do not rely on false claims, and come visit us to see by yourself. We will be glad to cope for your well-being if you decide to visit us, we have nothing to hide and are full of passion for the work we do.
One of our best works was recently installed by New York based company (please check with them if you may quote them or not) Martino Auto Concepts. They said they had never seen a product with such perfection (refer to DMC Front Bumper Gallardo), and that it would FIT LIKE A GLOVE (See attachment: Gallardo_Bumper.jpg). We have this car in our swiss facility: Please make sure to come over and see for yourself, as reporting false claims could seriously damage our reputation.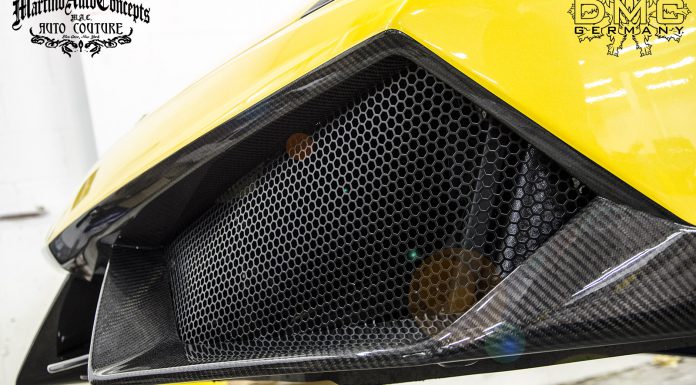 3. DMC products are made in China / Fake German
Before answering the question to our suppliers, it's crucial to understand DMC's background. It's CEO is actually a Permanent Hong Kong Resident, German National, and this is where DMC was started, in Hong Kong.
Having this Sino background, he quickly developed Asia as his number one market, because the clients here love Germans and their work. China is today DMC's number 1 market, which is why one of DMC's strong base is actually in Hong Kong.
The marketing attention was and will always be to build a strong brand, potentially a German brand. We do not mean to claim that all our products are made in Germany, even though this may indeed be misleading (we will review how to improve upon this).
The CEO's background, his knowledge, is the cutting edge that differentiates him from other local Hong Kong businesses, its normal to put attention on this heritage and education. Other foreign Hong Kong businesses do the same, and these brands are usually the successful ones.
We do have a purchase office in Germany, since we source parts from some EU factories, and our location in Switzerland is extremely strong in Engine modifications and Product Development. The building on our website is not a Telecom building, it's the Tectrum building. It belongs to the University of Duisburg, where some partners were located that do the CT and 3D scans for DMC.
Does DMC manufacture in China? DMC has a number of suppliers, because we don't produce by ourselves. We are a small humble company that designs in-house, and believes in outsourcing to the right strong partners. We manufacture where we see it right, where our (German) standards are met, and yes, this also includes China, among others.
The majority of our products are designed by ourselves, you can only purchase them through DMC. A minority of our items maybe re-branded products – we will consider this if we find a good item which has a market potential,if it fits into our product line-up, meets our quality requirements, and make the customer happy.
Final words from DMC
DMC is not a big company, indeed we are very small. But the work we do everyday, we do with full passion. We are not a German based German company, but the founders are 100% German. We do have a German background, a base in Germany and Switzerland, and our vision is to supply beautiful products, at German Standards, that may indeed be manufactured in China, Germany, or elsewhere. We are willing to improve, and we are sorry if our actions or marketing activities have been misleading. This was never our intention, we just want to enjoy this beautiful dream that we have worked for very hard.