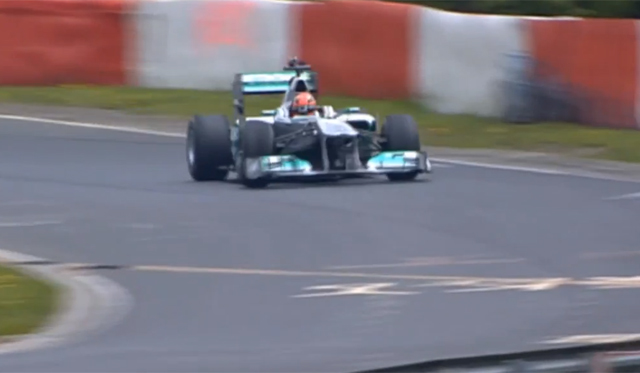 Prior to the 2013 24 Hours Nurburgring kicking off, seven-time Formula One World Champion Michael Schumacher hit the infamous racing track for the first and last time in a 2011-spec Mercedes Formula One car.
And thanks to the massive coverage of the Nurburgring 24 Hours, Schumacher's adventure was filmed from every conceivable angle from a selection of different cameras including a chase helicopter and the following clip highlights some of the best shots of Schumacher's once-in-a-lifetime sprint around the legendary Nurburgring circuit.
Unfortunately, the lap was only an exhibition lap meaning Michael Schumacher wasn't allowed to go full throttle around the circuit in an attempt to set a new world record around the infamous track.
Furthermore, there were a selection of other Mercedes-Benz AMG cars on the track with Michael Schumacher including a Mercedes-Benz SLS AMG Black Series, and a Mercedes-Benz SLS AMG GT3 with even former Mercedes Formula One teammate to Schumacher, Nico Rosberg piloting one of them!