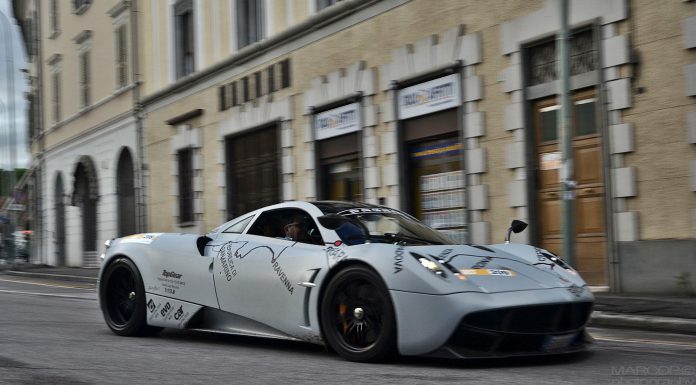 Yet another bewildering rally happening this weekend, the Mille Miglia 2013. The following are shots of the two Pagani Huayra's that are taking part in the rally. One of them is blue in color while the other is white with decals on it. The shots were taken by Marcop Cars.
The Mille Miglia was started way back in 1927 and was closed in 1957 later to be revived in 1977 and has been considered to be one of the most challenging races of all time. Today, it's organized as a safe rally, this year the participants will go through three-day, multi-stage rally places which runs over 1,000 miles from its start in Brescia, Northern Italy, passes cities through Verona, Ferrara, San Marino and Rome before returning to returning back to Brescia via Siena, Florence and Cremona.
The rally started on 16th May and will end on the 20th. We have more shots from last night at the rally which will be included in our next shot. As you all know, only cars that took part in the original Italian classic race and are still in their original condition may participate in the competition. Therefore, the Huayra and other modern supercars are in the rally not for competition but for fun.
Just a recap, the Pagani Huayra is powered by a 6.0 liter V12 AMG engine fed by a twin-turbo setup that develops 730hp and 1000 Nm of torque. The top speed is 372km/h and a 0-97km/h time of 3.3 seconds. To get one of this, the least you shall spend is $1.3 million.
www.facebook.com/marcopCars