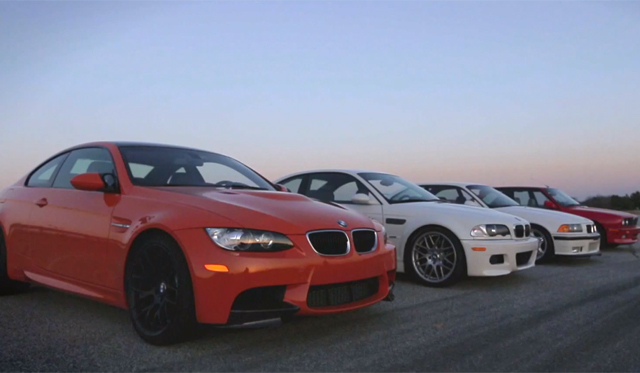 With the release of a brand new 2014 BMW M3 edging ever closer to its release date later this year, what better way to celebrate what has become an iconic sports car than by gathering all four-generations of BMW M3 together for one massive track test.
Well, in the latest episode of Ignition presented by journalist Carlos Lago for the Motor Trend channel, that's exactly what they did.
Lago didn't just gather the four aforementioned BMW M3's in regular tune, he also managed to grab hold of a 2013 BMW E92 M3 Lime Rock Edition as well as a BMW E36 M3 Lightweight.
The BMW M3 legend started way back in 1985 with the release of the BMW E30 M3. Powered by a 2.3-liter four-cylinder petrol engine, the BMW E30 M3 produced 192hp when first released. As time went on, BMW began offering the BMW E30 M3 in a number of different configurations with the top-of-the-range BMW E30 M3 Sport Evolution delivering 235hp.
Next came the BMW E36 M3 in 1992 which featured a 3.0-liter six-cylinder engine to start with which was later upgraded to a 3.2-liter unit. The original produces 282hp while the 3.2-liter straight-six powered BMW E36 M3 pumped out 316hp.
The BMW E46 M3 is then considered as the greatest of all the M3's with it too featuring a 3.2-liter straight-six engine. However, this powerplant was significantly uprated to now produce 333hp.
Finally, we have the BMW E92 M3 featuring a 4.0-liter V8 engine producing 414hp which helps propel the car to 100km/h in just over 4 seconds.
All of the aforementioned BMW M3's featured naturally aspirated engines but the upcoming 2014 BMW M3 will depart from that and instead include a turbocharged V6 engine.