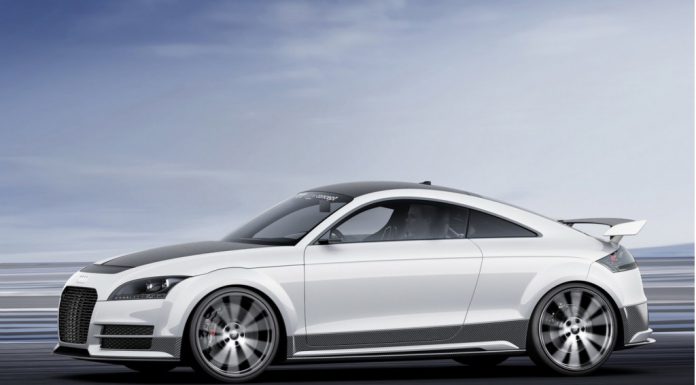 The Audi Ultra TT Quattro is marketed as being the example of how "motorsports meets Quattro." We would have thought the Audi R18 Le Mans prototypes would be the perfect example of that, but apparently not.
http://www.youtube.com/watch?feature=player_embedded&v=hFNsvYVbvls#!
But, as any petrolhead will tell you, light means fast. Add in a Le Mans champion? Yeah, really fast. While the video may be in German, the message is made very clear: the car is quick. The TT Ultra Quattro concept weighs in at just a hair over 2450 pounds, with right around 305 horsepower. That means 8 pounds per horsepower and an overall savings of 660 pounds over the standard TT.
As you can see in the video and image above, much of this weight savings comes in the form of carbon fiber components. A carbon fiver wing is mounted on the rear deck, supported by milled aluminum struts. The focus on performance goes as far as removing the traiditonal mirrors for cameras, which feed the images directly onto screens inside the cabin.
The Audi TT Ultra Quattro concept debuted at this years Wörthersee Tour in Austria. No word on if the car will ever see production, but we really hope it does. It looks mega.