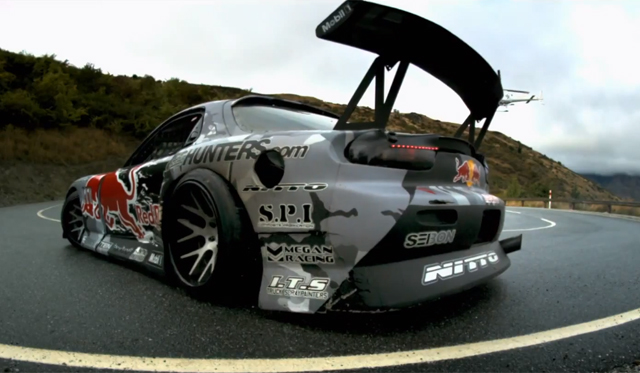 New Zealand racing driver Mike Whiddett recently tackled The Crown Range in New Zealand in a Mazda RX7, drifting up what is essentially New Zealand's equivalent of the Pikes Peak International hillclimb's circuit.
Making up The Crown Range are 47 corners and1076 metres of elevation with the road twisting and turning up the mountain side for an impressive 10.4km.
Mike Whiddett is a New Zealand based international drifter whose extensively modified Mazda RX7 now produces 750hp.
Mid-way through the run, Whiddett gets the opportunity to really display the potency of his 750hp Mazda RX7 as he reaches a top speed of 232km/h on the narrow mountain road before pulling the handbrake and circumnavigating yet another corner completely sideways.
When discussing the drive Whiddett said, "I think drifters have an innate ability to slip from reality when driving up a road like the Crown Range in normal circumstances. We imagine drifting through the turns, the gear changes, the footwork, the hand brake and of course stomping on the gas. So for me, having the opportunity to get behind the wheel of my machine, push it to the limit and conquer the Crown is a dream turned into a reality."