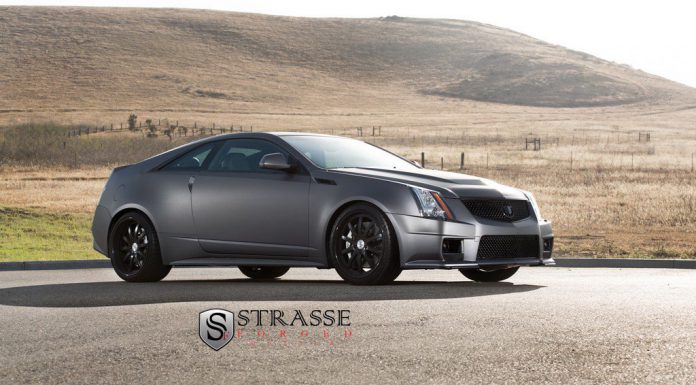 Wheels Manufacturer Strasse Forged have unveiled a photoshoot of a Matte Grey Cadillac CTS-V in stealth nature wearing their S10 wheels series. The American sports sedan is well known among tuners especially due to its flexibility when it comes to digging more power from its powerhouse. This particular one was treated to Strasse Forged S10 wheels sizing 20×9 inches in the front and 20×11.5 inches in the rear.
To match the theme on its body skin, the wheels feature matte black centers, gloss black lips all around complemented by gloss black inner barrels. Just a recap and adding on what we had said about this car, it's powered by a 6.2 liter LSA engine which is heavily based on the LS9 used in the Corvette ZR1 C6, difference comes about mainly in the pistons whereby the LS9 uses forged aluminum while the LSA has high-silicon Hypereutec aluminum pistons.
The car hence will not deliver less than what we see in the Corvette ZR1 C6, it gives 556 hp and 551 lb•ft of torque while mated to either a 6 speed manual or a 6 speed automatic with paddle shifters. The 0-97km/h sprint time is 3.9 seconds before attaining a top speed of 319km/h.