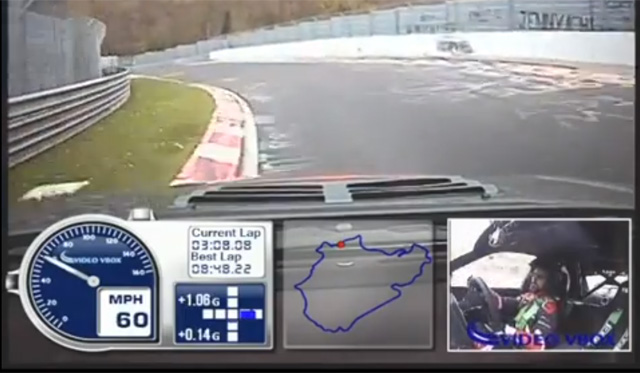 UK based tuner Revolution Motorsports has set the fastest ever lap for a Subaru Impreza STI on the infamous Nurburgring Norschleife.
The lap, which was completed in a blisteringly fast 7:53.08 is nearly two seconds quicker than Tommi Makinen's lap in 2011. Makinens lap, however, was completed in a production model STI. The Revolution Motorsports 'Project STI Nurburgring' took a total of four months to build, and will be offered to customers in a limited run of 10 vehicles. The car is based on the JDM-spec STI.
Modifications include a carbon fiber hood, thinner glass and wider wheel arches to accomodate the OZ Superturismo LM 19″ alloys. The interior is suitably stripped out, with the rear seats being removed in favor of a roll cage. The front seats have been replaced with Recaro racing models, inluding TRS racing harnesses.
The engine receives Cosworth's 2.2 stroker kit, which enables the STI to produce up to 508hp, depending on set up and configuration. To set the time, Revolution is reported to have used only a medium boost setting, which produced around 400 hp.
The Revolution STI Nurburgring edition is available for 71,994 GBP.