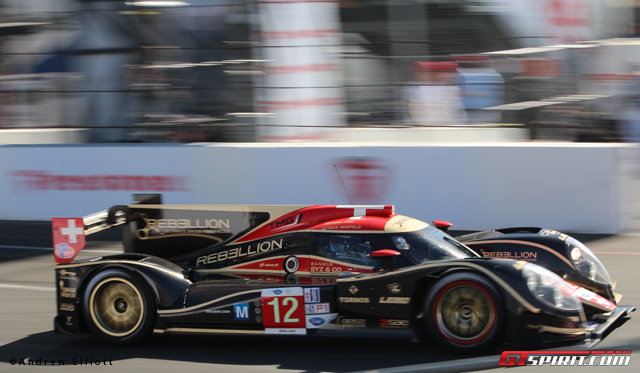 The 2013 installment of the American Le Mans Series highest attended street course saw Klaus Graf and Lucas Luhr take the overall victory for the third straight year.
After three cautions in the first hour of racing, Greg Pickett's Muscle Milk teamed opted for an early pitstop while behind the safety car — a move that helped them cruise to victory some 36 seconds head of the Rebellion Racing duo of Nick Heidfeld and Neal Jani. While Muscle Milk — who had changed their drivers during an earlier caution — was able to only take on fuel during their last pit stop, the Rebellion team lost valuable time as they opted to change their drivers during green flag running. Rebellion's strategy ultimately cost them the win.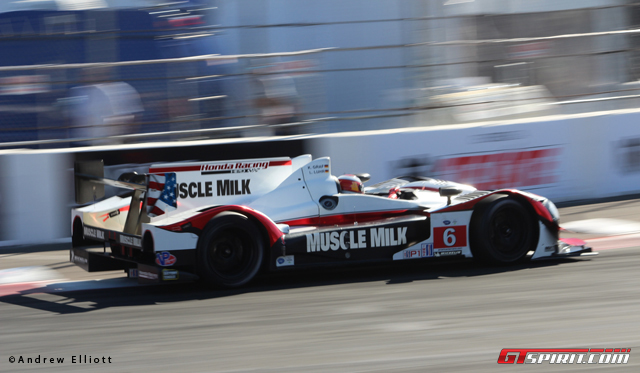 In P2, Scott Sharp's Extreme Speed motorsports finished 1-2 in only its second race in the P2 category. Scott Sharp and Guy Cosmo took the chequered flag ahead of their teammates Ed Brown and Johannes Van Overbeek in their HPD ARX-03b.
It was not a particularly strong showing for the P2 class, however; as the nature of the street course cancelled out much of the performance gains P2 cars hold over their PC rivals. Colin Braun and John Bennett took the Prototype-Challenge victory and third overall for CORE Autosport in a massively impressive effort for the team.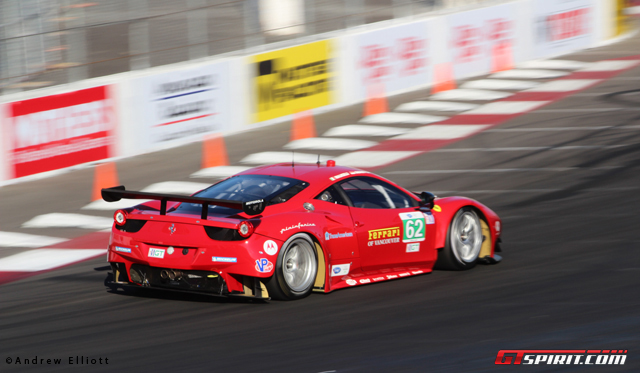 In just its second race in GT, the newly revised BMW Team RLL squad — now campaigning BMW Z4's — took its first ALMS class victory in spectacular fashion, with the No. 55 Z4 GTE piloted by California native Bill Auberlen and Maxime Martin just ahead of their teammates Joey Jand and Dirk Muller in the No. 56 sister car. The victory came after Maxime Martin overcooked the first turn early in the race, losing valuable track position. With 73 minutes left, however, Bill Auberlen pitted to top off the BMW's fuel tank in a move that would secure them the win.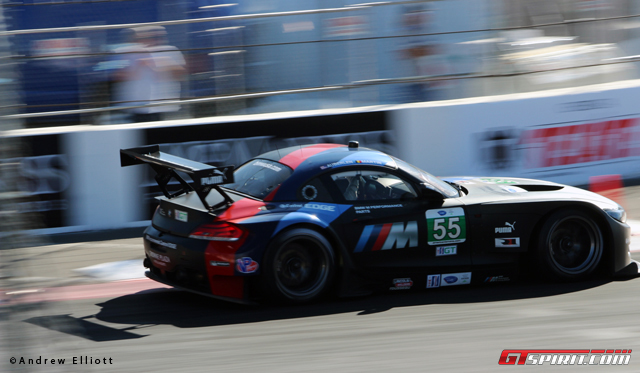 GTC saw NGT Motorsport's Sean Edwards maintain the lead after a late race challenge from Spencer Pumpelly, who would only manage to get within 2.1 seconds of the leader. Edwards was able to run a full 80 minute stint on the same set of tires and fuel, a move that forced Edwards to save fuel for the majority of the race. In the end, however, their combination of pit strategy and Edwards' fuel saving abilities saw them at the top step of their class podium.
Results (official from ALMS.com):
1. (3) Lucas Luhr/Klaus Graf, HPD ARX-03c, 80 laps
2. (1) Neel Jani/Nick Heidfeld, Lola B12/60 Toyota, 80
3. (6) Jonathan Bennett/Colin Braun, ORECA FLM09, 79
4. (7) Mike Guasch/Luis Diaz, ORECA FLM09, 79
5. (5) Duncan Ende/Bruno Junqueira, ORECA FLM09, 79
6. (11) Guy Cosmo/Scott Sharp, HPD ARX-03b, 79
7. (17) Maxime Martin/Bill Auberlen, BMW Z4 GTE, 78
8. (12) Ed Brown/Johannes van Overbeek, HPD ARX-03b, 78
9. (20) Joey Hand/Dirk Mueller, BMW Z4 GTE, 78
10. (13) Marc Goossens/Dominik Farnbacher, SRT Viper GTS-R Viper V-10, 78
11. (18) Tommy Milner/Oliver Gavin, Chevrolet Corvette C6 ZR1, 78
12. (16) Antonio Garcia/Jan Magnussen, Chevrolet Corvette C6 ZR1, 78
13. (32) Bryce Miller/Marco Holzer, Porsche 911 GT3 RSR, 78
14. (21) Bill Sweedler/Townsend Bell, Ferrari F458 Italia, 77
15. (15) Kuno Wittmer/Jonathan Bomarito, SRT Viper GTS-R Viper V-10, 77
16. (19) Olivier Beretta/Matteo Malucelli, Ferrari F458 Italia, 77
17. (10) Tomy Drissi/Rusty Mitchell, ORECA FLM09, 77
18. (9) Charlie Shears/Tristan Nunez, ORECA FLM09, 76
19. (14) Bryan Sellers/Wolf Henzler, Porsche 911 GT3 RSR, 76
20. (24) Henrique Cisneros/Sean Edwards, Porsche 911 GT3 Cup, 75
21. (25) Nelson Canache Jr./Spencer Pumpelly, Porsche 911 GT3 Cup, 75
22. (29) Brian Wong/Dion von Moltke/Spencer Pumpelly, Porsche 911 GT3 Cup, 75
23. (23) Cooper MacNeil/Jeroen Bleekemolen, Porsche 911 GT3 Cup, 75
24. (28) Brett Curtis/Craig Stanton, Porsche 911 GT3 Cup, 75
25. (27) Chris Cumming/Kyle Marcelli, ORECA FLM09, 75
26. (31) Patrick Dempsey/Joe Foster, Porsche 911 GT3 Cup, 73
27. (26) Ben Keating/Damien Faulkner, Porsche 911 GT3 Cup, 73
28. (4) Scott Tucker/Ryan Briscoe, HPD ARX-03b, 66
29. (27) Mike Hedlund/Jan Heylen, Porsche 911 GT3 Cup, 62
30. (22) Marino Franchitti/Scott Tucker, HPD ARX-03b, 57