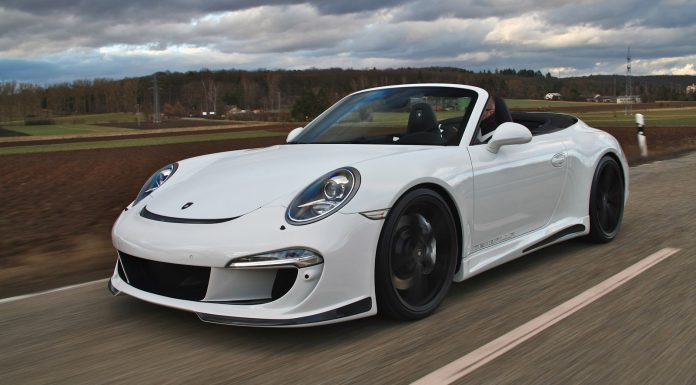 Gemballa has a new program for the Porsche 991 Carrera S Convertible, a new GT aerodynamic and technology package that gives the Carrera S Cabriolet a whole new grand look. For a car celebrating its 50th anniversary this year, Gemballa has played its role in the celebrations with this new program whose components are all made of carbon fiber.
The new program highlights a contoured front bumper with three large cooling air intakes and carbon-fiber spoiler lip. New side skirts further enhance the curves on the Porsche 911 Carrera S Cabriolet; the rear bumper is painted in a dark paint complemented by the carbon fiber strip between the lights and diffuser with cutouts to allow the exhaust pipes fit perfectly and lastly a Gurney lip spoiler to finish the rear.
The exhaust system features the dual triple-tail pipe that was first seen on the Gemballa Avalanche, it gives a string voice and it has a lower backpressure that helps develop up to 10hp extra. The suspension system features uprated sport springs that work with the factory PASM active damping system, drop the ride height by 20mm. The sports car rides on Gemballa 21-inch GForged- one wheels.
These wheels come in various finishes including the black magic, gunmetal or even a diamond cut finish which is not glossy turned. They weigh lighter than the factory wheels hence benefiting unsprung weight and handling. They are priced at €8,948 incl. VAT. The braking system in this program was developed in conjunction with Brembo.\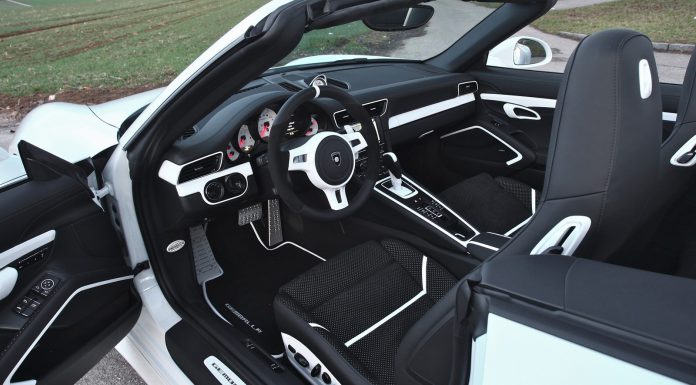 The interior can be availed as a bespoke program, there are lots of color options ranging from the finest hides and Alcantara with trim fabricated from high quality wood in complementary colors. The multimedia system can be fitted according to the users specification and that means the latest ones available too.
The powerhouse is the 3,800 cc with power rated at 395 hp (294kW) at 7,400rpm (405 hp (302 kW) when combined with Gemballa sport exhaust system. The maximum torque is 440 Nm at 5600rpm and a top speed of 301 km/h or 299 km/h with PDK, its 0-100 km/h sprint time is 4.7 s and 4.5 s with PDK.