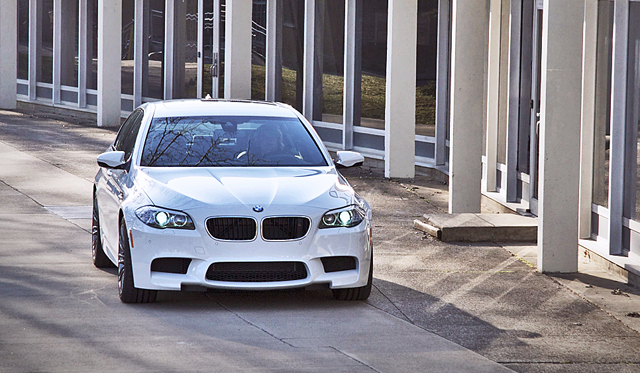 Don't let the stock appearance fool you – this 2013 BMW M5 is packing more than 700 hp!
Developed by Switzer Performance in Oberlin, Ohio, USA, the P700 BMW M5 combines Switzer's own high-flow, stainless-steel exhaust system with drop-in filters and performance-enhancing ECU software to push the BMW M5's twin-turbocharged V8 engine from the factory's (claimed) 560 hp to the stout 700 hp figure you see here.
Switzer has been teasing its BMW development program for several months now. The first fruits of the work put into the platform arrived in the form of a high-performance, stainless-steel exhaust system that helped M5 owners hear the twin-turbo V8's song from inside the cabin. "BMW actually pumps engine noise into the cabin through the stereo on the new M5s," explains Neil Switzer. "If I buy a twin-turbo V8, I want to hear the twin-turbo V8. The exhaust gave us just enough sound through the less-restrictive mufflers, and the larger-diameter tubing increased the maximum amount of air we were able to move through the engine."
An extra 140 horsepower and real engine noise? Sounds good to me! Switzer is offering its new P700 BMW M5 PKG through its Oberlin, Ohio facility and authorized Switzer Performance dealers for 6995 USD.
[Via Switzer Performance]