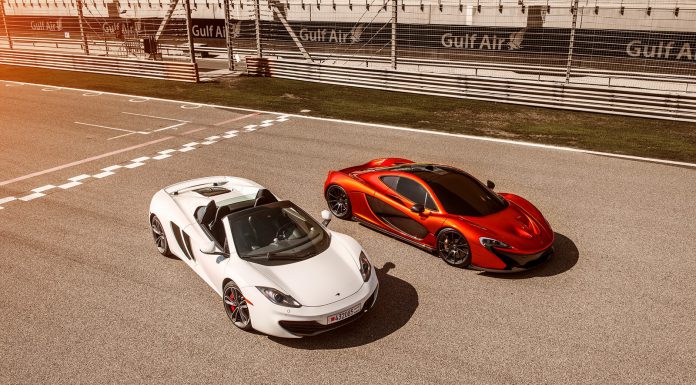 You may remember that one of the first set of photos of the McLaren P1 emerged from the Bahrain Circuit and we shared some courtesy of George F Williams. He has sent us a second set which includes a white McLaren 12C Spider on the same track. The McLaren P1 is still among the most hyped debuts of 2013 having made an official debut at the Geneva Motor Show 2013.
Just a recap, the McLaren P1 will use a mid-mounted 3.8-litre twin-turbo V8 petrol engine fitted with two turbochargers and an electric motor. Together, this produces 916ps (903bhp) and a maximum torque figure of 900Nm. The petrol engine alone produces 737ps (727bhp) at 7,500rpm, and 720Nm of torque from 4,000rpm with the electric motor supplementing 179ps (176bhp) and 260Nm of torque. The power is channelled through the dual-clutch seven-speed gearbox to drive the rear wheels.
The price for this supercar that comes with a jet-fighter styled cockpit and Formula 1 driving dynamics and technology is estimated at $1.15 million dollars. Only 375 McLaren P1′s will be built!