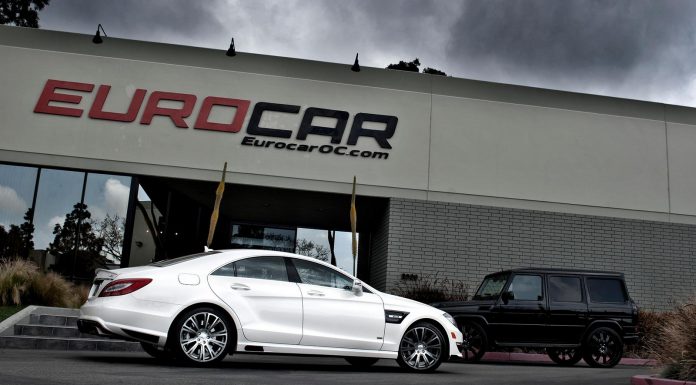 Eurocar is a car dealer offering pre-owned luxury vehicles, based in Costa Mesa, California but it serves the entire USA, Canada, Europe, Dubai and China for close to 30 years now. In their inventory they have a special offering, a 2012 Mercedes Brabus B63 CLS63 AMG. That automatically ringers a bell in our mind, it's the well know Brabus tuned Mercedes-Benz CLS 63 AMG whose powerhouse is enhanced by a Brabus performance kit B63-620.
This particular one is finished in white with black accents, the styling is the same as the package details and that means a Brabus front lip spoiler, a front bumper and a Brabus Rocket frontskirt. Others include the side skirts and sport fenders; LED lighting is also utilized on the fitments with illuminations. The rear spoiler and bumper add a similar stance to the rear end of the luxury car.
The interior lives to the Brabus styling rich in alcantara leather mainly on the steering and other parts, the floor and seats sport Brabus logos. As for the powerhouse, the kit gives the luxury sedan a new power of 620HP with 1000nm of torque with a 300+ km/h top speed depending on the specific kit applied.
The photoshoot of the car was done by KVK Automotive Photography who other than photography also recreates cars in Forza Motorsport 4 for Viral marketing, as well as designs for company's' modification.