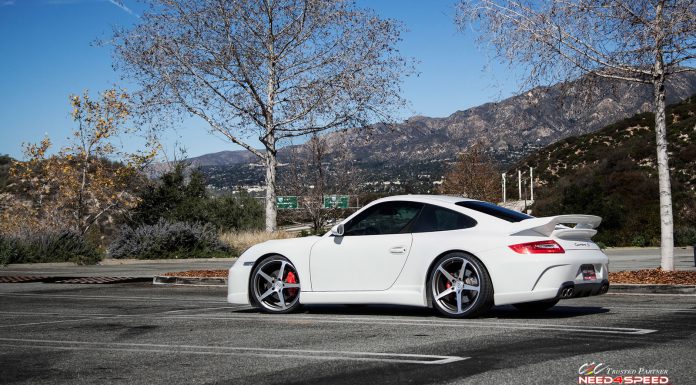 Los Angeles based wheels and tire specialist Need4Speed Motorsports did a project based on a Porsche 997 Carrera S which they fitted with CEC Wheels. The German sports car is treated to a white coat but it's the c884 CEC wheels that give it the exceptional look, sizing 20×8.5 inches in the front and 20×11 inches in the rear. LED fog lights, LED tail lights and H&R Sport Springs are also part of this build.
The stunning photoshoot of the aftermath of this project was then done by A3 Photography
The Porsche is dressed in a Misha Design Porsche 997 GTM2 body kit which comes with air ducts to channel extra air into the radiator to increase cooling. It has the Porsche 997 GT3 style air vent at the top near the hood to release high pressure air from the front bumper to reduce drag and to increase down-force. The wider lower lip is designed to redirect air from going underneath the car to reduce drag and lift.
Just a recap, the Porsche 997 Carrera S is powered by a 3.8 liter flat-6 engine developing 350bhp with a 0-100km/h time of 4.7 seconds and a top speed of 182 mph.
[Photos by A3 Photography]