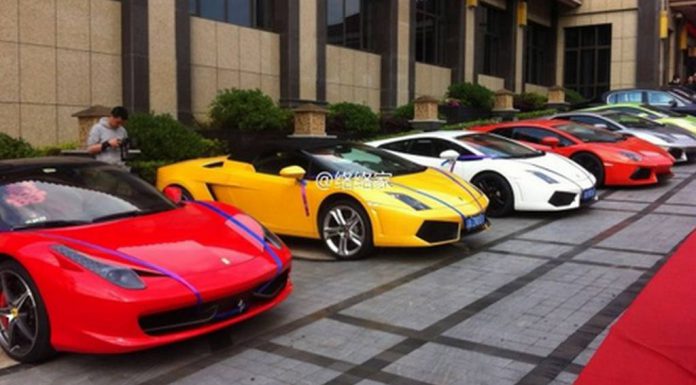 Being the son of a wealthy business owner certainly has its perks as the following newly-wed discovered at his wedding day.
Attendees at the high-priced wedding were greeted with an incredible lineup of supercars including the Ferrari 458 Italia, Lamborghini Gallardo, Lamborghini Aventador and numerous Bentley's all thanks to a wealthy chairman of the Fuxing Group.
The wedding took place at the Daisishengjue Spa Hotel in Heishangu in the heart of China and included a notable appearance from Malaysian pop star Eric Moo and Nigerian born singer Uwechue Emmanuel.
The father of the groom had the following to say, "At first I was aiming to keep extravagance and waste to a minimum. But then I decided to combine the wedding with a corporate promotion event," he said. "[The banquet] allows me to kill two birds with one stone…I feel the money has been well spent."
So in short, the father of the groom used his son's wedding to promote his own company. Strange but the supercars make up for it!
[Via Shanghaiist]