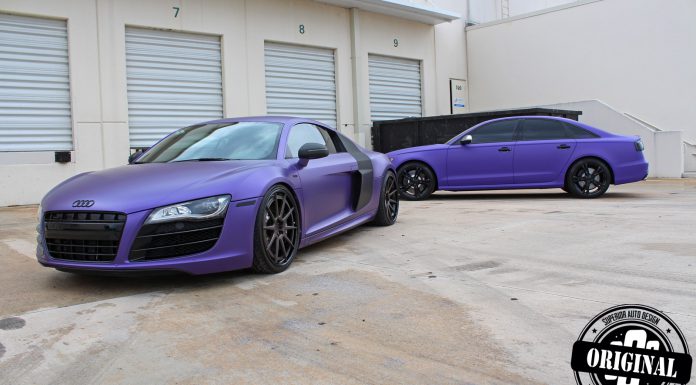 Superior Auto Design, a tuner based in South Florida is recently showed us a purple wrapped Audi S6 which is one of their many wrap projects. In a new project, they have recently worked on another purple wrapped Audi R8 V10. Similar to its sister the Audi S6, they decided sharpen the wrap when the car was brought in for wheels customization.
The 2012 Audi R8 V10 was fitted with ADV.1 Wheels; the tuner coated the barrel in gloss black having dismantled the 3-piece forged wheels before putting them back in a new look. They also treated the sports car to SAdesign details and fixed up some trouble spots on the wrap, what you see now is a perfect Avery's Matte Purple Metallic wrap on the German sports car. They even managed to get a photoshoot of the previous Audi S6 alongside this Audi R8.
Just a reminder, the 2012 Audi R8 V10 is powered by a 5.2 liter V10 powerhouse similar to that in the Lamborghini Gallardo LP560-4 albeit producing less power than the latter, it has a total output of 525 horsepower and 390 pound-feet or torque. A sprint from 0-100km/h in done in 3.9 seconds before hitting a top speed of 196mph. The base price is $149,000 for this sports car.