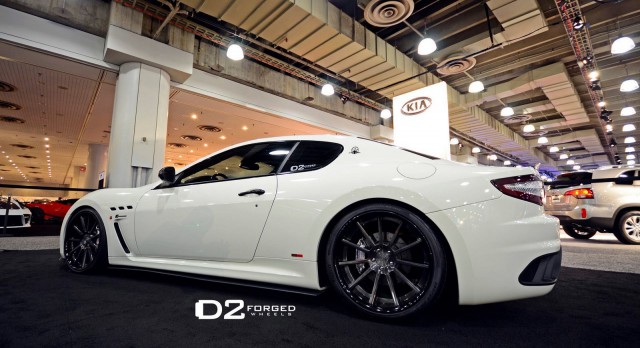 The New York Auto Show 2013 saw new debuts such as the 2014 Range Rover Sport but also in the house was wheels manufacturer D2Forged wheels representing what they do best, forged wheels profiles. To do this, they brought in some of their recent projects accompanied by their partners Elite Design Concepts and Big Power Racing whom we presume took part in these projects.
The cars included a Dodge Challenger, Porsche 911, a stunning white Maserati GranTurismo and a BMW F10 M5 in blue coating. The wheels were nothing short of what they have showed us before, starting with profiles such as the CV3-LP concave wheels on the BMW F10 M5, CV11 concave wheels on the Maserati GranTurismo and many others on display at thir stand.
Their stand was able to attract public figures like Eric Sermon and if you do remember your hip-hop well, Eric was a rapper from the famous group EPMD back in the day.