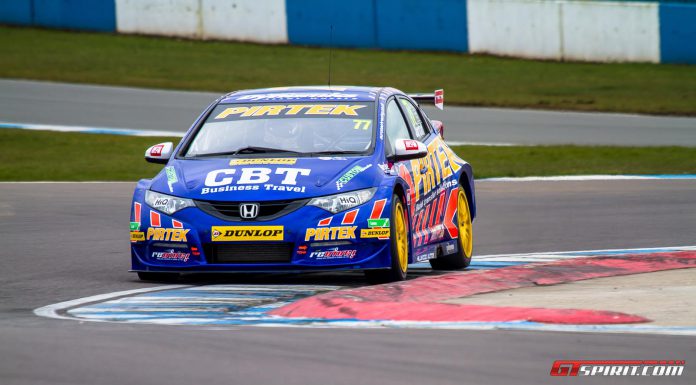 The first round of BTCC is taking place at Brands Hatch, Kent. The opening round of the season is at full capacity with a thirty-two car grid. Sunday will see the first three races of the season. Today we have four previous champions take to the track for qualifying and set their fastest times.
One driver who is on a mission this year is Jason Plato in his Momentum MG6. Before qualifying Plato said "During the winter break we have been working on understanding why we failed to get the MG working as we want in the wet," Jason confirmed. "Progress and definite improvements have been made to our wet set-up, both in terms of performance and drivability. We expect to be quick in the dry and still playing catch-up a little in the wet"
At the media day Andrew Jordan set the quickest time on Dunlop's new soft compound tyre in the extremely cold weather conditions at Donington Park. During the test the top three cars were split by only 0.102 seconds.
The first practice of the day had Plato setting the fastest lap and on top of the session, followed by Shedden, Jordon, Smith and Turkington respectively. Free Practice two had a change of weather, snow started to fall and had a slight impact on the practice session. Jordan takes top postition with a time of 48.387 ahead of Shedden, Plato, Neal and Morgan.
Qualifying results were
1. Andrew Jordan Pirtek Racing Honda Civic 48.387secs
2. Gordon Shedden Honda Yuasa Racing Honda Civic 48.483secs
3. Jason Plato MG KX Momentum Racing MG6 GT 48.571secs
4. Matt Neal Honda Yuasa Racing Honda Civic 48.614secs
5. Sam Tordoff MG KX Momentum Racing MG6 GT 48.726secs
6. Dave Newsham Speedworks Toyota Avensis 48.827secs
7. Rob Austin Wix Racing Audi A4 48.844secs
8. Jeff Smith Pirtek Racing Honda Civic 48.914secs
9. Nick Foster eBay Motors BMW 125i M-Sport 49.201secs
10. Adam Morgan Ciceley Racing Toyota Avensis 49.203secs
11. Ollie Jackson Speedworks Toyota Avensis 49.239secs
12. Mat Jackson Airwaves Racing Ford Focus 49.248secs
13. Rob Collard eBay Motors BMW 125i M-Sport 49.319secs
14. Aron Smith Airwaves Racing Ford Focus 49.553secs
15. Will Bratt Wix Racing Audi A4 49.737secs
16. Lea Wood Wheel Heaven/Houseman Racing Vauxhall Vectra 50.011secs
17. Tom Onslow-Cole PPCGB.com/Kraftwerk Racing Volkswagen CC 50.231secs
18. James Kaye AmDTuning.com Volkswagen Golf 51.198secs
19. Liam Griffin Addison Lee Motorbase Ford Focus 51.330secs
20. Joe Girling M247 Racing Chevrolet Cruze 51.415secs
21. Warren Scott BMR Restart SEAT Leon 51.439secs
22. James Cole RCIB Insurance Racing Vauxhall Insignia 51.453secs
23. David Nye Welch Automotive Ford Focus 51.616secs
24. Dan Welch Welch Automotive Proton Gen-2 55.179secs
25. Frank Wrathall Dynojet Toyota Avensis DNF
26. Colin Turkington eBay Motors BMW 125i M-Sport DNF
27. Jack Goff RCIB Insurance Racing Vauxhall Insignia DNF