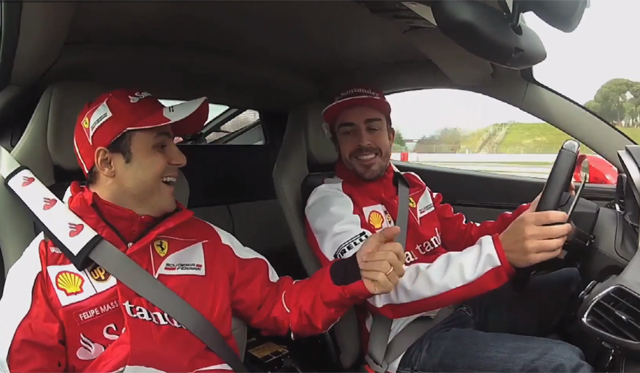 Scuderia Ferrari Formula One drivers Fernando Alonso and Felipe Massa were recently given the opportunity to take the Ferrari 458 Italia out on the Circuit de Catalunya in Barcelona as a promotional activity for the Italian manufacturer.
Despite being subject to well over 4g for up to two hours at a time in their day job, Alonso and Massa seem to be having the time of their lives as they powerslide and hoon the Ferrari 458 Italia around the tricky Formula 1 circuit.
http://www.youtube.com/watch?feature=player_embedded&v=bIaNgipAUz4#!
Each driver was given one lap of the circuit and despite the Ferrari 458 Italia being significantly slower than their F1 cars around the circuit, as the video shows, the duo simply can't wipe the smiles off their faces!