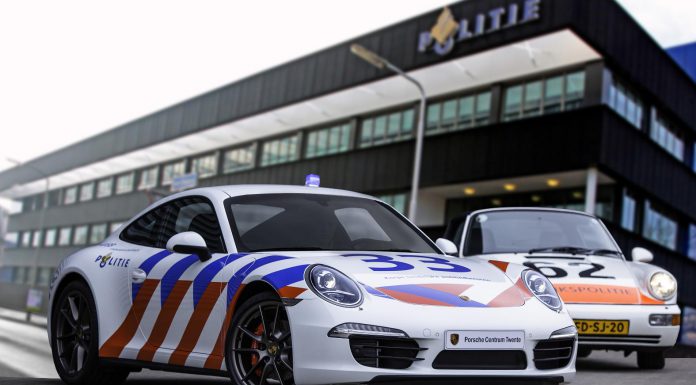 Porsche is celebrating 50 years of the Porsche 911 in various ways this year. We have showed you a couple of them already and the latest is the introduction of a new Porsche 911 Carrera 4S in police striping. Released by the Porsche Centre Twente, the Porsche 911 Carrera S will not be the first in police striping as the 911 has been used in the second half of the past century as police cars.
Just a small history on the trimming of the Porsche 911 into police cars. It was a time when the General Traffic Department of the National Police was looking for fast, reliable patrol cars. The Porsche 356 B Cabriolet was chosen as the best car for the job. The first twelve models in police livery hit the roads in 1962.
The 356 B variant was followed in 1967 by the 912 Targa which had a soft rear window. Less than two years later, the 914 models followed with a six-cylinder engine. This was at a time when the 911 Targa was famous for the job thanks to the six liter boxer engine; it was succeeded by the 911 Cabriolet Type 964. From 1962 to 1994 a total of 509 Porsche police cars patrolled along the Dutch motorways.
The Porsche 911 4S Porsche Centre Twente (excluding police striping) is available from € 136.500.