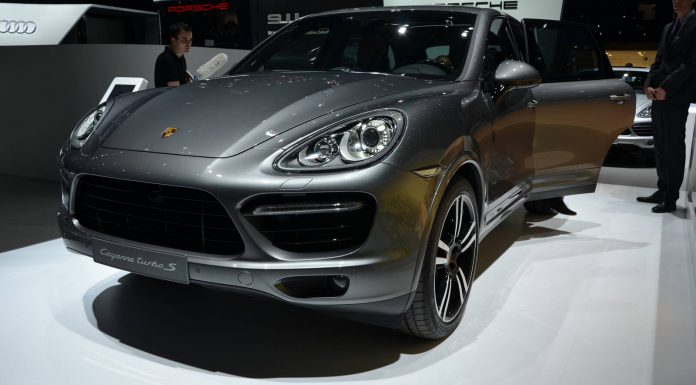 For the Porsche Cayenne Turbo S, the Geneva Motor Show 2013 is a European debut. Porsche's fastest SUV was unveiled shortly after the Paris Motor Show in October last year, it has since debuted at the Detroit Motor Show, but not at a major European Motor Show. We thought we'd take a closer look, for the sake of being thorough!
The Porsche Cayenne Turbo S features a turbocharged 4.8 liter V8 engine with 550hp and 750Nm of torque. Interestingly, fuel consumption is identical to the Turbo, measured at 11.5 liters per 100km (25mpg). The sprint from zero to 100km/h takes just 4.5 seconds (reduced by 0.2 seconds), and the Turbo S accelerates to a top speed of 283km/h (+5km/h).
The Porsche Cayenne Turbo S gets an active chassis with air suspension and Porsche's active-damping control as well as an electronically controlled rear differential. The Turbo S is also fitted with Porsche dynamic chassis control and the Porsche torque vectoring plus system. The Sport Chrono package is also fitted as standard.

On the outside, the air inlet screens, headlight housings and mirror parts are painted in high-gloss black. 21 inch 911 Turbo II wheels are fitted as standard with coloured Porsche badges exclusively designed for the Cayenne Turbo S.
For full details on the Porsche Cayenne Turbo S, click through the embedded link!