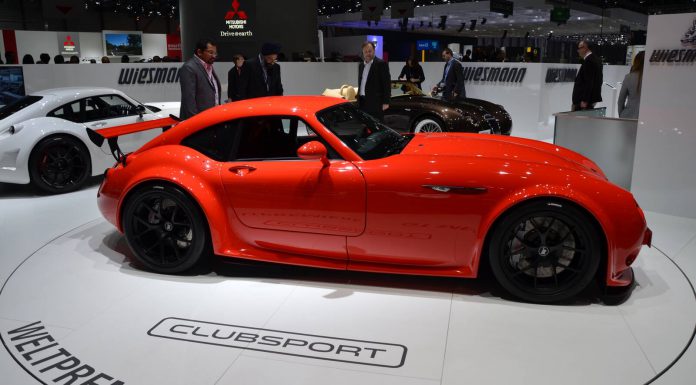 The Wiesmann GT MF4-CS has now officially been unveiled at the Geneva Motor Show 2013. The Wiesmann GT MF4-CS is the club sport version of the Wiesmann GT MF4-S. It features a range of different options that help make it the most suitable trac day Wiesmann ever. We sent a photographer for a closer look!
The Wiesmann GT MF4-CS has a tailored wide front end design including daytime running lights and splitter. It also gets pumped up wide wheel arches and a fixed rear wing. The Wiesmann GT MF4-CS gets a functioning roll bar, fully adjustable chassis, sport brakes, and sports bucket seats.
Weight reductions are realised through the use of a carbon roof, door pulls instead of handles and polycarbonate side windows. These features shed up to 20kg off the weight of the standard model.
To celebrate the 25th anniversary of Wiesmann, the Clubsport will be available in a limited edition run of 25 cars. Other important specs include the engine which is a V8 front mid-mounted unit, sending power to the rear-wheels.

Total unladen weight is 1,350 kg and engine performance is rated at 420hp. The Wiesmann GT MF4-CS can reach a top speed of 293 km/h and accelerate from 0-100 km/h in just 4.4 seconds. Prices for the Wiesmann GT MF4-CS start at 193,193.28 EUR (basic net price including standard equipment).