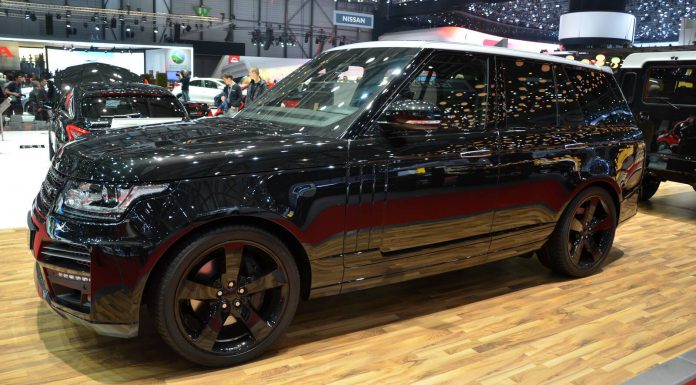 Startech is showing its new tuning program for the 2013 Range Rover here at the Geneva Motor Show 2013. The Startech Range Rover is one of a number of new shape Range Rover's on display at the Swiss motor show. We sent a photographer to capture the Brabus Group car!
The Startech Range Rover features components manufactured from flexible high-grade PUR Rim plastics to series-production quality standards. The front fascia replaces the production bumper in its entirety giving the SUV a more dynamic front. It is then integrated with a spoiler that reduces lift on the front axle at high speeds, thus optimizing directional stability.
Safety is enhanced with the Startech lighting system. Depending on the national certification requirements in the respective country, the Startech front element is either fitted with integrated LED daytime running lights or with LED position lights featuring an identical design. The new front fascia also houses the smallest LED fog lights currently on the market.
There is a new rear bumper designed to replace the production part in its entirety with an integrated diffuser shaped to ensure that it doesn't impede the function of the electric trailer hitch that many Range Rover models are equipped with. Next is the exhaust embellishers, harmoniously integrated into the lines of the bodywork combined either with the production exhaust or with the Startech stainless-steel sport exhaust system.
Startech developed the SD 30S performance upgrade for the new 3.0-liter LR-TDV6 Diesel engine equipped with two turbochargers. This tuning kit consists of a computer-controlled auxiliary control module. A moderate increase in boost pressure bumps the rated power output of the diesel engine from standard 258hp to 300hp at 4,000rpm.

For more details on the Startech Range Rover, visit out earlier article via the embedded link.