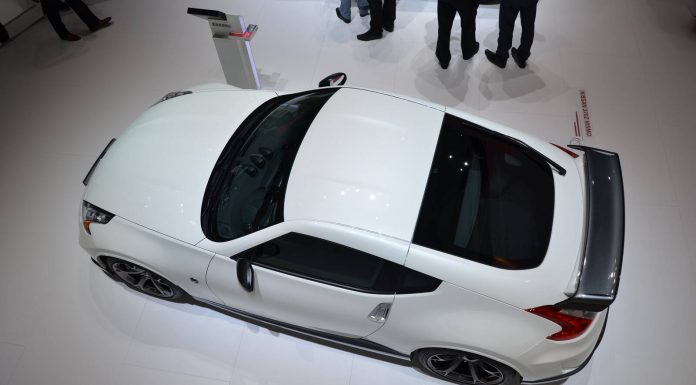 Nissan are showing the Nissan 370Z Nismo at their Geneva Motor Show 2013 stand. The hot Nissan 370Z Nismo is attracting a modest amount of attention with distinctive looks and the performance to match. We sent a photographer over to take a look!
The Nissan 370Z Nismo was released at a recent event in Barcelona, Spain. It is the most exciting Nissan 370Z produced to date with it being specifically created with the driver in mind. As a result, the Nissan 370Z Nismo will only be offered as a coupe and with a six-speed manual transmission.
Under the hood, the Nissan 370Z Nismo now pumps out an impressive 350hp and 371Nm of torque, which is capable of rocketing the car to 100km/h in just 5.2 seconds thanks in part to the improved responsiveness across the low and mid rev range.

On the outside, the 370Z Nismo now features a more aggressive front end incorporating a new front bumper to improve airflow around the car, while also adding downforce. Add to that new Nismo red pinstripe lines, 19-inch forged alloy wheels, red brake calipers, wider high performance tires and a new rear spoiler, and you have the most capable 370Z ever.
For more details on what is different for the Nissan 370Z Nismo, take a look at the embedded link.