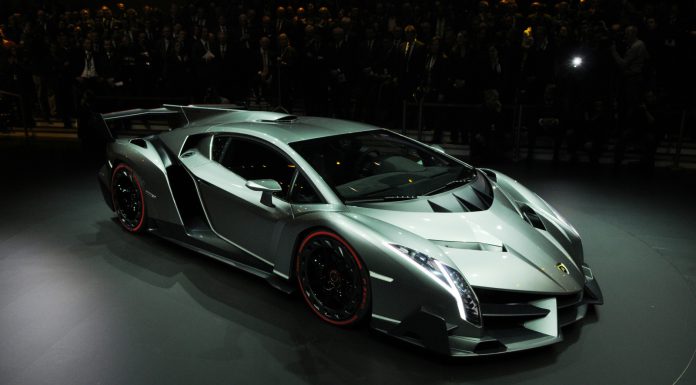 The Geneva Motor Show 2013 has seen the official debut of the Lamborghini Veneno to celebrate its 50th anniversary. The photos show its sharp ends as shown by the official photos but the live lighting makes it come to life, encompassing a magical design with purpose keeping the legacy of Lamborghini ahead. Last night the Lamborghini Veneno made its official debut at the VAG (Volkswagen Audi Group) preview event.
Only three unique units of the Lamborghini Veneno will be built and sold with a 3 million Euros plus tax price tag. Despite the extreme price tag all three units have already been sold! Its design is consistently focused on optimum aerodynamics and cornering stability, giving the Lamborghini Veneno the real dynamic experience of a racing prototype, yet it is fully homologated for the road.
With a maximum output of 750 hp, the Veneno accelerates from 0 to 100 km/h in just 2.8 seconds and the top speed for this street-legal racing car stands at 355 km/h. The Lamborghini Veneno features a twelve-cylinder power unit with a displacement of 6.5 liters, an extremely fast-shifting 7-speed ISR transmission with 5 driving modes and permanent all-wheel drive, as well as a racing chassis with pushrod suspension and horizontal spring/damper units.