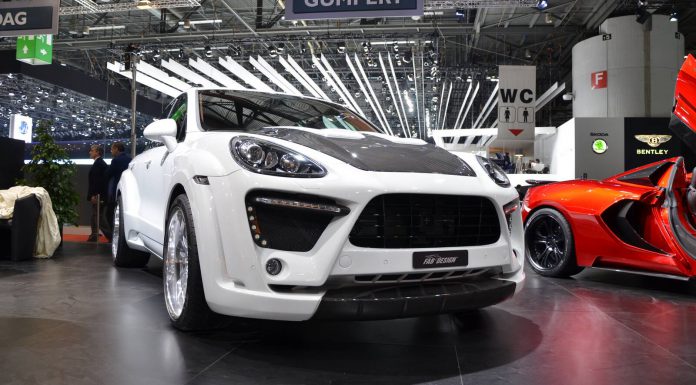 FAB Design have unveiled the FAB Design Cayenne Emperor II at the Geneva Motor Show 2013. The Emperor I was first unveiled at the Geneva Motor Show in 2011. FAB Design say that this new model is more dynamic, more luxurious, and more sophisticated than its predecessor. We sent a photographer to check it out!
The FAB Design Cayenne Emperor II is based on the Porsche Cayenne S Diesel. Performance is enhanced with power increased by 48hp and an additional 80Nm of torque. At the same time, top speed is 5km/h higher, reaching 257km/h, and it now takes just 5.4 seconds to sprint to 100km/h. Airflow is enhanced through the FAB sports exhaust system with its quad end pipes. The V8 engine of the Cayenne S Diesel also gets a sports air filter and an optimized engine electronic system.
[Gallery=]
The Emperor II features a new wide body kit with a racier front spoiler and over-sized cooling air intakes. The two ventilation ducts on the super light, carbon re-enforced engine hood ensure additional removal of the heat accumulated in the engine bay and add highly individual flair.

The interior is made as per the customers requests ranging from double clear-coat finish, leather, carbon, or Alcantara including personalized foot mats to complete the interior leather finish. The wheels used are Emperor II design wheels sizing 22×10 inches at the front and 22×12 inches at the rear.