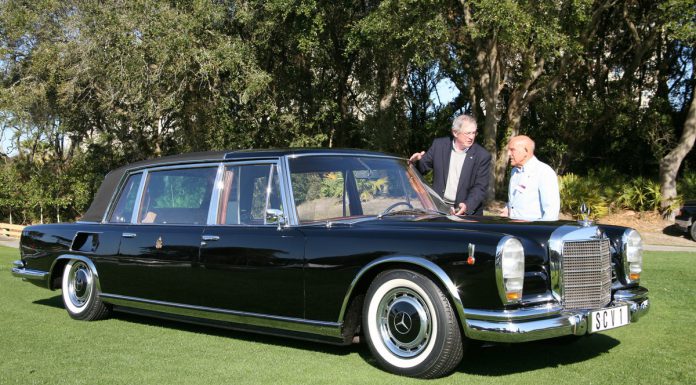 Sir Stirling Craufurd Moss will return to this year's Amelia Island Concours d'Elegance according to the Amelia Concours Founder and Chairman Bill Warner. Born in 1929, Stirling Moss is often called the greatest driver never to win the World Championship but from 1948 to 1962 he boasts of winning 212 of the 529 races he entered, including 16 Formula One Grands Prix. He would compete in 62 races a single year and drove 84 different makes of car over the course of his racing career, including Lotus, Vanwall, Maserati, Jaguar, Ferrari and Porsche.
In 1996 Sir Stirling was the Amelia Island Concours d'Elegance first Honorary Chairman. The cover of 'The Amelia's' 1996 collector-grade program depicted Moss' epic 1000 mile drive in the record-setting 1955 Mille Miglia, a non-stop road race around the Italian peninsula in Mercedes-Benz's legendary 300SLR. Bill Warner said;
Having Sir Stirling Moss at 'The Amelia' again is exciting; he's a genuine hero who's won every kind of race: Grands Prix, the great endurance sports car races, even rallies. His amazing, record-setting drive in the 1955 Mille Miglia in a Mercedes-Benz 300SLR remains a high water mark of automotive and human performance. We appreciate Mercedes-Benz hosting Sir Stirling and Lady Moss once again at Amelia.
The Amelia Island Concours d'Elegance is in the second decade and always held in the second full weekend in March, this year's happening on March 8-10. It features nearly 250 rare vehicles from collections around the world to The Golf Club of Amelia Island and The Ritz-Carlton. Since 1996, the show's Foundation has donated over $2 million to Community Hospice of Northeast Florida, Inc. and other deserving charities on Florida's First Coast.