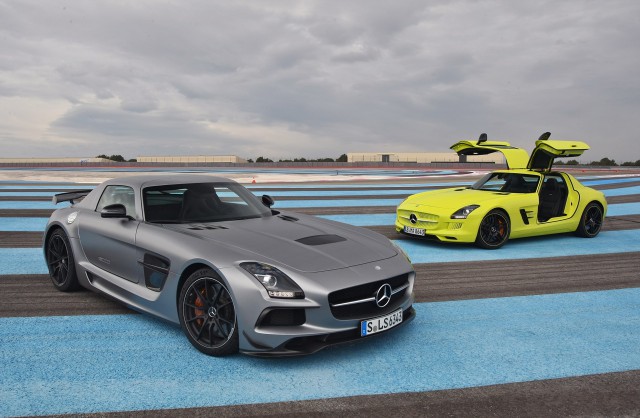 We recently showed you a Neon Yellow, or lumiletric magno Mercedes-Benz SLS AMG E-Cell that was spotted testing in Barcelona Spain. A new set of photos from Ian Kuah reveal a Mercedes-Benz SLS AMG Black Series and the Neon Yellow Mercedes-Benz SLS E-Cell at Paul Ricard Circuit, both definitely make a powerful pair.
The SLS AMG E-Cell will be powered by four electric motors situated at each wheel. Power will be equivalent to 519 instantaneous horsepower and 649lb-ft of torque allowing the E-Cell to glide effortlessly to 100km/h (62mph) in just under four seconds. The lithium polymer batteries will be located behind the cockpit and down the center tunnel.
It has an acceleration to 100km/h in just 4.0 seconds, a scant 0.2 seconds behind its conventional family member. It is all made possible by using a 324-cell lithium-ion battery pack and 12,000rpm, 480kW motors at each end.